We've talked here before about the rapidly growing, global problem of hearing loss. So why do fewer than 20% of those who could benefit from hearing aids not use them?
The answer to this question embraces a paradox. An irrational sense among the public of shame about the disability is part of the answer. This has steered hearing aid manufacturers toward the creation of ever smaller devices. Most are now hidden behind the ear and some even lodge invisibly entirely inside the ear canal.
The development and manufacture of these miniature devices is expensive and the limited size of the target market drives up the unit price well beyond the average means of those who could benefit from them. So even fewer of the hearing impaired buy them.
A world brought to a standstill by SARS-CoV-2 has exacerbated the problem. Even those rare few with wallets big enough and prepared to recognise and acknowledge their hearing loss may be currently finding it difficult to initiate the treatment cycle. Here in the UK, that would typically begin with a visit to the doctor, who would write a reference to the audiologist, followed by a hearing test and the appropriate prescription.
If you're in the UK and able to do this, or when you're able to do this, take advantage of our National Health Service and do it. In many other parts of the world, the process is much more complicated and expensive.
Is there another way?
---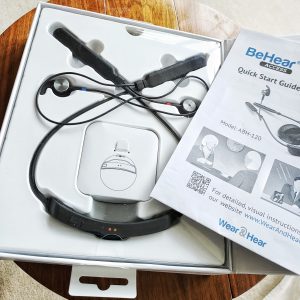 THIS MAY BE WHERE the Wear & Hear BeHear Access earbuds can help.
Another theme we've been following here in Tested Technology is the developing fusion of clinical hearing aids and consumer audio devices. Nick Hunn, who coined the term "hearables", has been watching the emerging market for mass-produced, consumer hearing products—headphones, earbuds and so forth—that can optionally be tuned to compensate for any hearing loss.
The BeHear Access earbuds exemplify this category in every respect.
Physically, they resemble the kind of Bluetooth earbuds that are wired together behind the neck. Which they largely are. The hidden feature is that the left and right earbuds can separately compensate for the shortcomings of anyone with mild to moderate hearing loss.
BeHear DIY Audiology
To this end, the BeHear Access communicates by Bluetooth to your Android or Apple smartphone. The multi-function BeHear App includes a Library of different settings for the amplification of six separate frequency bands, ranging from 500Hz to 8kHz. This is roughly the range and number of frequency bands covered by clinical hearing aids. Wear & Hear says these presets are based on typical hearing profiles.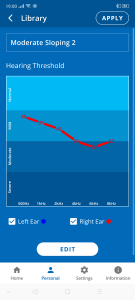 If you were confined to choosing from these one dozen presets, the BeHear Access would be an interesting and probably useful enough device. But it goes one better by including a hearing test that allows you to shape your own personal profile.
The app sends out tones in each of the six frequency bands to the left and right ear in turn. In much the same way as in the audiologist's sound-proof booth, the volume of each tone rises from low to high and you're invited to indicate the point at which you're first able to hear it. The app then adjusts the volume of each frequency band accordingly.
This approximates to what is known in the trade as Manufacturer's First Fit. This is the hearing specialist's initial line of approach to tailoring your clinical hearing aids. Ideally, it should be followed up with fine-tuning using a device that measures the exact characteristics of the audio waves inside your ear canal once the hearing aids are fitted. This second process, Real Ear Measurement, depends on a tiny microphone, suspended inside your ear close to the eardrum. The BeHear Access doesn't follow clinical procedure this far.
Neither, in fact, do many commercial clinics, unless the patient insists on it (strongly recommended). Some audiologists consider Manufacturer's First Fit a good-enough solution, although the uncomplaining patient may be missing some of the finer features. There's no question that for the majority of individuals with hearing loss the BeHear Access doesn't, and could never, offer the complete solution that a competent audiologist is able to provide with clinical hearing aids.
But good-enough is very often good enough. And the BeHear Access should certainly fit that description for the majority of hearing loss sufferers who are perhaps unable or unwilling to venture out to an audiologist at the moment or for whatever reason.
Major Tom to Ground Control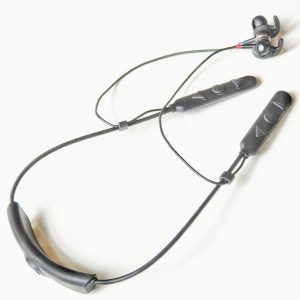 The BeHear Access is designed around a style of Bluetooth earbuds that was demoted from the mainstream with the arrival of Apple's "true wireless" Airpods towards the end of 2016. The Airpods, and their countless imitators from myriad manufacturers, eliminate wiring altogether, presenting instead as two small (and easily losable) rechargeable devices that perch independently inside the left and right pinnae.
Since the inception of this true wireless category, interwired "wireless" earbuds like the BeHear Access have been mostly marketed as sports accessories, the implication being that they're more physically secure during energetic activities, with less chance of falling out of the ears and/or being lost altogether.
The BeHear Access design adds a little more wiring than these sports devices. In addition to the behind-the-neck connection, a pair of long oval control pads hang down, left and right, over each collarbone. These allow on-the-fly modification to the earbuds' function that true wireless devices now leave to voice control or control from an app running on a smartphone.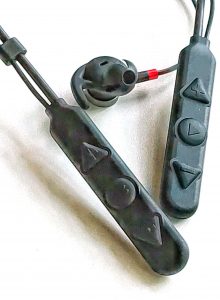 These control pads are physically somewhat ungainly (see the following section). But they give you a lot more options than regular earpods.
When you're not streaming to the BeHear Access, you're in what Wear & Hear calls "Hearing Mode". In this state, a short press on the centre button on the right-hand control panel switches between:
Indoor mode: Normal "hearing aid" amplification using your chosen profile
Outdoor mode: As its name implies, a preset for when you're out and about
Crowd mode: A preset designed to minimise ambient noise
Live Music mode: Optimised for concert and hifi listening.
A long press on this right-hand centre button switches Hearing Mode off if you want some peace and quiet. You're notified of all these mode changes by a built-in female American voice you will either grow to love or hate.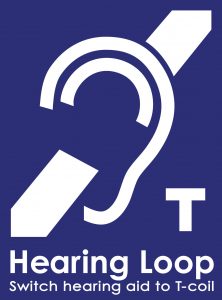 A double press on the centre button switches on
Telecoil mode
. On public transport here in the UK, for example, this will pick up transmissions direct from the magnetic looping system used for announcements.
Telecoil mode has its own Listen Through arrangement.
I've called these modes "presets". But a key feature is that they're preset in accordance with the personalised Manufacturer's First Fit you used to tune the BeHear Access for your own ears. And these modes are
individually editable
, so that each of the six frequency bands can be tuned separately and the level of noise reduction can be adjusted in four stages between minimum and maximum.
When the BeHear Access is streaming from a Bluetooth device this right-hand centre button has a different function. A long press switches between "Listen Through" on and off. The Listen Through off switches off the input from the four microphones but leaves you listening to the Bluetooth stream. With Listen Through on you'll hear the Bluetooth stream and anything the microphones pick up. In this mode you can adjust the live and the streamed volume independently using the arrow buttons on the right and left control panels respectively.
Charging the Battery
---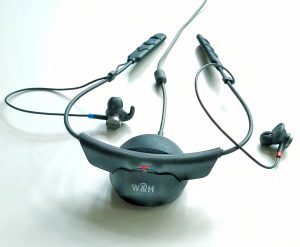 The battery can be recharged directly using the microUSB socket protected by a rubber grommet located in the centre of the neckpiece.
But you don't have to fiddle with wires. The included charging cradle can be permanently connected to a standard microUSB phone charger.
Simply drop the neckpiece into the cradle and a magnetic locking system will ensure the charging contacts locate correctly. The red LED in the neckpiece turns green when the BeHear Access is fully charged.
Wear & Hear say the battery will run for over 13 hours in Hearing Mode or allow around 8 hours of streaming. Using the BeHear Access all day as a hearing aid and streamer I found it tended to run out of juice towards the end of the evening.
---
Wires and Buttons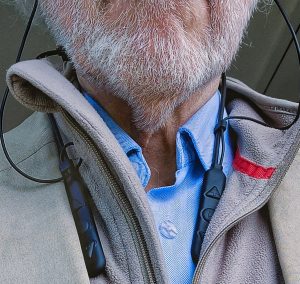 Compared with true wireless earbuds, or even with regular sports Bluetooth earbuds, the BeHear Access design has a distinct aura of the previous decade. Part of manufacturer's selling proposition is that, unlike clinical hearing aids, it won't publicise the wearer's hearing loss as "…it is a stylish personal hearing device… [that] looks and functions like a Bluetooth® stereo headset."
There seems to be a strong suggestion here that the BeHear Access is addressing what we've called "the irrational sense of shame" that hearing loss users are supposed to feel. I'm personally not sold on this marketing concept.
Over the many days I've worn the BeHear Access instead of my regular LiNX Quattro it's become clear that you can't constantly keep sports-style earbuds in your ears.
I don't mean they're inclined to fall out. The rubber hook arrangement fixes them securely enough. The falling out is with your family when you sit down at a meal apparently tuned in to some personal music stream or private news service.
I did explain at the dinner table that the BeHear Access can behave like regular hearing aids, using its four microphones, two in each of the earbuds and another pair built into the left and right control pads. But the look of the thing just isn't right for family meals or regular conversations.
Even in private use, the physical design of the BeHear Access presents quirky problems. Standard Bluetooth sports earbuds are connected by a single wire, unobtrusively looping behind the neck. But the BeHear Access adds that extra dangling wiring for the two control pads.
In practice, though, this turns out to be tricky. You can only see the two pads over your collarbones if you crane your neck sharply, so you want to be able to find them quickly by touch. But the dangling wires ensure that they're never quite where you expect them to be.
If you're walking outdoors (and the BeHear Access has proved very useful as the latest device for delivering my daily dose of T.S. Eliot) the fumble-factor multiplies. Are the control panels outside your jacket or have they slipped inside? Has just one of them slipped inside. Has it found its way under your shirt, perhaps?
You've stopped to talk to someone and want to pause the Bluetooth stream. There's a button for that—the centre button on the left-hand panel. Both hands go up to your collarbones. There's the right control panel but it's slipped down low onto your breast. So the left one must be… ah! almost at the back of your neck.
Which reminds me of another annoyance…
The Pairing Problem
Switching between streaming audio from your phone and using the BeHear Access as a hearing aid is simple enough. To pair the device with your phone you put both of them into pairing mode, they find each other, job done.
*
If your TV isn't Bluetooth-enabled you can easily add a transmitter like the HearLink Plus (see below).
The BeHear Access will also pair with your laptop. And with your TV
*
. And that's where it starts getting complicated.
The BeHear Access goes into pairing mode when you switch it on and continue to hold down the power button. The power button isn't on either of the control pads, it's all on its own right in the middle of the back of your neck. Reaching for this button, and pressing it in exactly the right place (I found it rather stiff) isn't a big deal if you're just setting up a connection to your smartphone. It's something you're supposed to need to do only once. But doing it again and again for your laptop and your TV can be tedious.
Yes, in theory, setting up pairing is a one-time-only procedure for each device. Devices are supposed to remember their Bluetooth connections and usually do. I found that pairing link seemed occasionally to get lost, requiring re-pairing. But it takes two to tango and the BeHear Access may not be to blame here.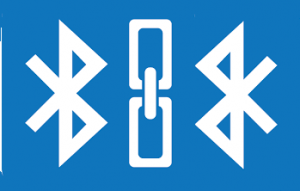 One significant problem with all classic Bluetooth devices is that although they can remain paired to other devices they can't carry more than one active streaming connection to different devices at any one time. Not that you'd probably want to be listening to the news on your phone while watching a movie on your laptop. But I've several times failed to pick up an audio stream from my nVidia Shield TV because I'd forgotten to disconnect the stream to the BeHear Access from my desktop computer. And vice versa. And the same thing with my phone and notebook.
A complication here is that the second device you attempt to connect to may report that the connection has succeeded. In fact, it has. With the BeHear Access and my Oppo Reno 2 happily communing (playing a stream from BBC Sounds in this particular case), I walk downstairs and hear the BeHear Access announce (in that voice you love or hate) "Connected". Why? Yes, I know it's connected.
What's happened is that the BeHear Access has picked up a new, pre-paired Bluetooth connection, with my laptop that I left running in the living room. When I open up my laptop and click on the Bluetooth icon to Show Bluetooth Devices, the BeHear Access appears there as "Connected". But how do I get it to receive a new stream?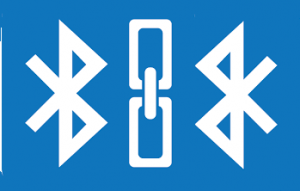 The pairing between the earpods and a smartphone comprises two channels, a narrow one for speech and a wider one for media.
This means you can receive a phone call while listening to a multimedia stream and choose to accept the call or reject it.
Accept the call and the multimedia stream will stop, starting again when you close the call.
Bluetooth is complicated.
But it does have a way of helping out here. If you have two sources attempting to stream to the earpods at the same time, YouTube on your notebook, say, and music on your smartphone, it would be handy to switch between them without having to mess with the two transmitting devices.
Thanks to the control pads you can do this. Holding down the two arrow keys on the left-hand pad simultaneously turns off the stream from one device and opens up the stream from the other. This will pause the stream you're switching from.
But whether that stream starts up again when you switch back to it will depend on how cooperative it is.
YouTube obligingly pauses and runs under remote control from the control pads. BBC Sounds on an Android smartphone will pause when you switch away from it but requires manual restarting when you switch back.
Bluetooth and the HearLink Plus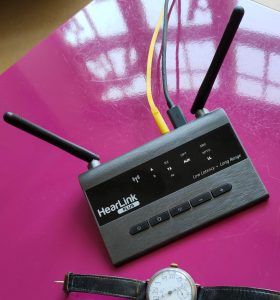 If your TV set offers Bluetooth streaming you can pair the BeHear Access to it directly, as we've said. If you want to stream from AV equipment that doesn't have Bluetooth, Wear & Hear offers the HearLink Plus.
This appears to be a badged version of a Chinese Bluetooth transmitter/receiver otherwise sold as the Avantree Long Range Bluetooth Transmitter Receiver. The price of the Avantee, shipped direct from China, is around £50.
Wear & Hear marks up that price for their own badged version by an extra £10. This isn't unreasonable as they include worldwide shipping and, presumably, back the device with their own support.
There are some good things to be said about the HearLink Plus. The quality of transmission to the BeHear Access is excellent—both devices use the aptX Bluetooth codec, described by the aptX manufacturer, Qualcomm, as offering "superior audio". In fact, the HearLink Plus/BeHear Access connection employs a special version of aptX called aptX Low Latency (aptX LL). (More on this in the next section)
But do you need it? If you want to stream from a TV set without Bluetooth you'll certainly need something. But the HearLink Plus seems to be overkill.
For one thing, it doubles as a receiver as well as a transmitter. This means that you could plug a pair of regular wired headphones into it to receive Bluetooth audio from your phone, say, or your notebook. Versatile, certainly. But you might be paying for a feature you'll never use.
It's my guess that Wear & Hear chose the Avantree because it's one of the few able to use aptX LL. Let's take a short break to unpack that.
AptX to the Rescue?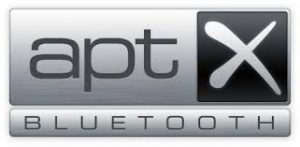 The quality of Bluetooth audio streaming in the early days of this century was dreadful. Just dreadful. The wireless connection offered only very low bandwidth (think of it as a narrow pipe), good enough for speech but insufficient to carry enough data for a respectable music signal.
Bluetooth headphones arrived on the market anyway. Most of the customers for these were listening to tightly compressed MP3 tracks and so were inured to having all the goodness squeezed out of their music.
*
The word "codec" stands for "compressor/ decompressor". So a codec needs to be employed at both ends of the pipe, to squeeze and then unsqueeze.
Like aptX, MP3 is a codec
*
designed to compress music for narrow bandwidth communication or to fit into small computer files.
Bluetooth was—and to a lesser extent still is—a narrow pipe compared, say, to the bandwidth a CD uses to store music. As music enters a Bluetooth transmission it needs to be compressed to fit the available bandwidth and then decompressed at the other end. The Bluetooth Special Interest Group (SIG) which has been nurturing the technology since its inception in 1998 mandated a particular codec, called SBC (sub-band coding), as the standard for audio compression. SBC has the advantage of needing a minimum of processing power.
SBC certainly saved power, helping to keep down the price of Bluetooth gear and giving it an acceptable battery life. But the designers of SBC wisely kept the codec very flexible. They anticipated greater processor power and wider bandwidth.
Over the years, SBC has been able to take advantage of these processor and bandwidth improvements. It's currently capable of carrying an audio signal with very little deterioration and low enough latency to maintain reasonably satisfactory video sync.
"We've had quite a few customers say that any latency beyond 40msec (what is provided by HearLink PLUS) does cause lip sync issues. So, we believe it is still a very good marketing point."

—Wear & Hear  
Tested Technology's own view is that SBC's problem is more a result of its reputation from the old days of low bandwidth and slow processors. There's a useful article by the SBC codec provider SEARAN here. For general purposes, many users may feel that SBC has caught up with aptX and aptX LL.
AptX LL, specifically designed to reduce latency to the achievable minimum, unfortunately requires special, relatively large aerials. This made it unsuitable for implementation in smartphones. Qualcomm, which owns the aptX technology, is a market leader in the manufacture of smartphone components, and perhaps because of this the company stopped the manufacture of aptX LL hardware two years ago. You can read more about aptX
here
.
But Bluetooth is Evolving
Because of their small size, hearing aids have largely avoided classic Bluetooth audio streaming due to the drain on the tiny batteries. Today's hearing aids may employ workarounds like an intermediate device between the transmitter and the receiver or using
a special variant of Bluetooth
from a phone to the hearing aids.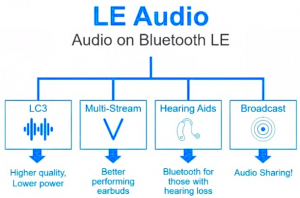 The Bluetooth transition currently underway (Bluetooth version 5.2) introduces a new way of audio streaming using low power and a new, high quality, low power codec known as LC3.
Low Energy Audio (LE Audio) promises huge improvements over today's Bluetooth streaming in terms of audio quality, latency and general flexibility (for example, the ability to have a single Bluetooth stream that can be simultaneously picked up by multiple Bluetooth receivers).
Bluetooth version 5.2 is expected to reach commercial audio products (including hearing aids) some time next year. There's a glimpse of what this will look like in this article by Nick Hunn.
BeHear or the
NHS-provided hearing aids will normally be one generation behind commercially available devices.
Here in the UK, the National Health Service provides excellent clinical hearing aids at no cost to the patient. If you're a UK citizen you should certainly take advantage of this whenever and however possible. It's true that there may be a long wait between that first referral by your doctor and the final fitting by the National Health audiologist. In my own case, the delay was more than a year.
It was during that waiting time that I first encountered BeHear at an annual industry event, the Wearables Show. If the BeHear Access had been available then, in 2017, I would have seized on it as an interim solution.
Being able to incorporate full classic Bluetooth audio streaming is, of course, one big advantage over many of the hearing aids on the market. 
The BeHear Access can do this because its physical form factor allows for the inclusion of a larger rechargeable battery to compensate for the relatively high current drain of classic Bluetooth audio streaming. The hearing aids I'm wearing now, very generously provided by ReSound, support Bluetooth streaming from Apple phones and from a few of the newer Android phones, using a specially modified version of Bluetooth streaming. My two previous hearing aids, the Evotion Oticon and the NHS Teneo couldn't do this.
There's one other important advantage over clinical hearing aids. Because the earbuds aren't attempting to hide in the ears, they have room for larger transducers—the devices that turn electrical signals into air pressure waves you hear as sound.
Wear & Hear has used this opportunity to incorporate dynamic transducers that work like small loudspeakers. Their reproduction of music is excellent and as they form an air seal with the ear canal there's no loss of bass frequencies as we discussed with hearing aids that use open or semi-open domes.
The BeHear Access also has a feature I've never encountered in regular hearing aids. When it's receiving a Bluetooth phone conversation from someone who's talking too fast it allows you optionally to slow down the stream of speech without affecting the pitch.
It also cunningly closes any gaps in the incoming conversation to keep you in step. I tested this briefly with an indulgent friend and it certainly works, although it seems like a lot of engineering to save you the trouble of saying, Hold on, slow down…
Bottom Line
Tested Technology is grateful to Wear & Hear for the donation of the BeHear Access and the HearLink Plus. They will both be valuable benchmarks for what we guess will be the many hearables arriving in the years to come.
But the question you are asking is: Will they be right for me?
Devices of this kind are so personal that you might think it impertinent of Tested Technology to attempt an answer. But, assuming you've become aware of your hearing loss (many don't for many years), want to do something about it (many don't) and for whatever reason won't or can't wear clinical hearing aids, we do have a boiler-plate answer.
As a bonus, if or when you do decide to get hearing aids, if they're the Receiver in Canal (RIC) type, you'll find the BeHear Access buds are shallow enough that you can use them with your hearing aids in place.
Yes and No.
Yes the BeHear Access is a really useful workaround for mild to moderate hearing loss. And, considering its many capabilities, good value for money
No you don't need the HearLink Plus. Many TV sets these days have Bluetooth built in. If yours doesn't, a cheap Bluetooth transmitter of the kind the receives an audio signal through a wired or optical connection will do the job. And audio sync—a genuine concern when the BeHear Access was on the drawing board four years ago—is unlikely to be a problem.
The BeHear Access is sold direct from Wear & Hear's Website for around £270.
We gave Wear & Hear an early look at this review. Not asking for approval—that's your prerogative as readers, just some facts that needed checking.  Many thanks to Ruth Bridger of Wear & Hear for the very helpful and swift response.
---
Chris Bidmead