The (probably) life-saving VariDesk sit-stand desk I reviewed last year, now a permanent fixture in my office as an antidote to that other fixture, my leather-upholstered Juniper Wall-Hugger recliner, has certainly bucked up my thinking about the ergonomics of office work.
Google latched onto my renewed interest, and has been inundating me with "relevant" ads. For £1,000 mesh office chairs, for £200 articulated monitor arms to position my screen just-so and, of course, for other sit-stand desks.
Does Tested Technology need another sit-stand desk? I didn't think so, until I encountered the Opløft—naturally in the form of one of those irritating YouTube ads that kick in right in the middle of somebody's complicated explanation of quantum mechanics (which I've been trying to follow lately).
Resisting the temptation to "Skip this ad", I sat through all 90 seconds of it. What impressed me was the portability, emphasised by a young woman shown effortlessly carrying the large, flat, white surface between workspaces and then blithely expanding it to exactly the right height.
Because that Varidesk that Tested Technology covered last year just isn't transportable. You set it up on a desk and that's where it stays. It's a two-man lift, weighing in at about 30Kg.
So, what about the Opløft?
---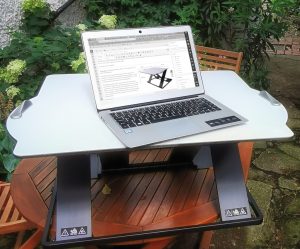 Taking a Stand
HOTDESKING IS A BIG THING in today's offices.  As are laptops. It's all about moving about.
Except that when I work with a laptop, I tend to slouch in an armchair. And stay there, for paragraph after paragraph. It would be good to incorporate some of the sit-stand principles I've learnt over that past year into the way I work with laptops.
The Opløft seemed to offer a way to do this. It's a plain white work surface, 780mm wide and 600mm deep. Put it on any desk or table and it adds just 30mm to the height when you're sitting. When you want to stand, a simple thumb press on the levers at each side triggers a gas-lift mechanism that can pump the height up to a maximum of 420mm, giving you a total of 14 different height settings.
I'm told the Opløft can take a maximum weight of 12Kg—roughly speaking, a pair of monitors—provided you're careful how you distribute the load and don't mind the extra effort you'll need to raise the desk.
I didn't test this, as the optimal load of around 8Kg was more than enough for the use-case I'm writing about here: a sit-stand desk you can easily move from place to place for use with a laptop. Adding a monitor into the mix is perfectly feasible but the whole operation becomes a lot less flexible. And if you need to run a pair of monitors you should perhaps be considering something like the permanently installed VariDesk.
In
last year's VariDesk review
we discussed the merits of sit-stand desks. The interim conclusion I came to then was that sitting and standing each, in their different ways, tend to introduce unnatural strains on the body.
The key difference is that, while sitting encourages, well, sitting, standing offers much more of an opportunity to move about. It's the moving about that delivers the ergonomic benefits, even if it's only shifting from foot to foot or walking a few paces between paragraphs or phone calls.
Lifting the Load
There are some very impressive features to this Scandinavian-styled piece of office equipment.
Its slim profile for storage: in a busy office several of them could easily be stacked into a cupboard. At home one of these can be slipped invisibly behind a sofa.
The smooth operation of the gas-lift, which makes it easy and quick to set the desk at exactly the right height and collapse it back to a flat wafer.
The rigidity of the structure, even when fully extended.
Manage Your Expectations
There are some downsides, too. Although not in the VariDesk's league when it comes to heft, at 12Kg the device isn't exactly the featherweight the young woman in the ad seems to suggest. Admittedly, it's hard to see how—short of crafting the whole thing out of titanium—the manufacturers could have made it lighter while building it to be so reassuringly rigid and stable.
Exacerbating the weight problem is the absence of any obvious way of carrying the flattened desk. I looked in vain for anything resembling a handle and had to settle for trying to get a solid finger grip somewhere.
The young woman in the Opløft video carries it two-handed like a large tray. But I found this method of transport a real strain for any distance beyond moving it from one part of the room to another. 
My instinct is to carry it one-handed, hanging down from an extended arm. This confines the grip to one of the long sides to avoid it scraping on the floor. The long side furthest from you as you work  doesn't fit the bill—there are no sharp edges, but the only grip offered above the centre of gravity is a rounded edge of a steel support plate that bites into your fingers. 
The opposite long side, nearest to you when you're working at the desk, offers a better prospect. There's a square-sectioned bar you can hook your fingers under and with a bit of practice I decided to settle for this.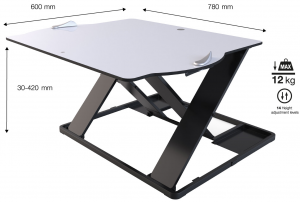 Once you've found your own comfortable solution to this puzzle, the Opløft is convincingly practical as a device you can shift around the office, or throw into the back seat of the car for a trip to another office branch. But probably not something you'd want to take with you to set up in your conference hotel room.
Unlike the two-tiered VariDesk, if you are using a monitor its base will be the same height as your keyboard, which may not position the screen optimally. Yes, you can buy an add-on monitor arm to fit the Opløft—you have a choice of two, in fact. To quote from the Posturite literature:
You can choose from two types of monitor arm designed especially to fit Opløft. Both allow you to position your screen to the perfect height and adjust the tilt and angle to find the most comfortable viewing angle for you.
…but it seems to me that the outstanding key feature of the Opløft's design, its simplicity, is being lost here. In which case, it's probably misleading to call this a "downside". The Opløft is a simple, elegantly designed tool that, like any such tool, may require compromises if you want to get clever with it.
Where Does That Leave Us?
Over the course of some 35 years writing about technology, I've found that there are three things I rather care about that have turned out to be a hard sell to readers:
The generous screen sizes and excellent picture quality of very affordable projectors as opposed to (often costly) TV sets.
The importance of regularly backing up your data. And regularly checking that it's recoverable.
The imperative of an egonomically designed work environment. 
*
I've never forgotten the story told me by an actor, one of my tutors at RADA. During the course of a very long-running West End play, Peter Barkworth managed to ruin three pairs of trousers by wearing a hole—the same hole each time—in the right knee.
In Act Two every night he rested that one knee on the seat of a chair for a brief speech. About what, I never discovered, but the repetition, night after night, matinees included, of that one simple act was enough to wear through the worsted.
That list is probably in reverse order of importance. For many of us, the workday is a template we carry out week in, week out, year after year. Trivial details of how we live loom large when we repeat them over and over again*. Setbacks like carpel tunnel syndrome, which can be crushingly debilitating, are brought on by the constant repetition of otherwise insignificant missteps.
Even if I've failed to convince you of the value of a sit-stand desk, you might still want to check out these useful notes on office ergonomics from Posturite.
Is It Just Me?
I should emphasise that in this review I've been looking at the Opløft from the point of view of a self-employed writer. As you'll have gathered, I've been focussing on the device as something quite distinct from the VariDesk reviewed here last year, chiefly because of its portability and ease of deployment. The industrial-strength springs of the VariDesk do a good job. But the gas-lift of the Opløft is, well, a gas.
For me, the fact that this is a distinctly different proposition from the VariDesk is what drew me to reviewing it. VariDesk had sought out Tested Technology with the offer of their product in exchange for an objective review. But in this case we approached Posturite out of the blue.
The company was kind enough not just to respond immediately, but also to offer—full disclosure—to donate the review sample to this publication. I can see it being used here chiefly as the working-while-walking-about-outside complement to the working-while-walking-about-inside VariDesk. A welcome change of pace, quickly set up in our courtyard in decent weather*. 
There are many other use-cases for the Opløft, though. It's not hard to see, for example, how it might be a permanent installation in a family household as a single desk with one or two monitors, shared between different users, each able to set it at their preferred height.  Or, perhaps, as a fleet of easily redistributable sit-stand desks in a large office with flexible working practices.
The Opløft Sit-Stand desk is available from Amazon here (not an affiliate link) for a hair under £300. At the time of writing a £50 discount Amazon voucher is available on this product. But you'll have to hurry—it runs out at the end of August.
---
Chris Bidmead