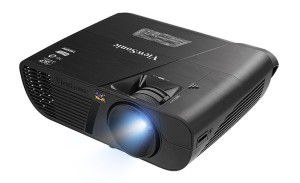 If you're looking for an all-round home projector you might be tempted to ignore machines sold into the small business/education market. It's true that the primary purpose of this class of projector won't include home cinema, and the main aim will be to produce a bright clear image suitable for presentations in daylight surroundings. And at a time when we're all being tempted into the high-precision display world of 4K – with the next generation of TV sets sporting four times the number of pixels on the screen than standard HD – the much lower resolution typical of entry-level business/education projectors, equivalent to so-called HD-Ready 720p, may seem like something of a turn-off.
Viewsonic's new Lightstream PJD6352 falls into this category, but for under £450 it has some surprises up its sleeve.
IN MY EARLIER review of the Viewsonic PJD7822HDL I mentioned that the light spill problem I'd observed in previous incarnations of this design was still present. In response Viewsonic has rushed me a new model in its latest Lightstream range, which seems to be based around a much improved light engine wrapped up in a completely redesigned casing.
With the advent of the Lightstream range the company's typical squared-off edges have been rounded out to more of a pebble shape, with the brushed metal effect black finish relieved by white lettering on the upper side. Installed, it looks business-like and quietly classy. Pick it up and its surprisingly light weight might initially give an impression that it is – how would the marketing folks put it? – a "value proposition" budget model.
Which it actually is. This is a cheap projector. But I mean that as a compliment.
Don't be fooled by the mere 2.2Kg – around the weight of a regular 15″ notebook. The plastic casing has a solid enough feel to it, with none of the creak and creep usually associated with bargain-basement items. The engineering of the exterior is impressive too, with plentiful air vents wide enough to keep the airflow quiet but at the same time leaking hardly any light. To complete the pebble theme an additional rear cowling can be clipped on to control and conceal the cable and mains power inputs.
The lens is embedded deep within the cone of the focus ring, which helps confine any light spill from the edges of the optical system. The way the light is corralled in this new design will be particularly impressive to those who've experienced some of Viewsonic's earlier models, which were rather more casually built in this respect.
Of course for business and education, where projectors will typically not be operating in darkroom conditions, light spill isn't much of a problem. It only gets annoying in a home cinema setting, where it can flatten the darker tones within the picture frame, and create distracting washes of light outside it. And for the most part the Lightstream PJD6352 is clearly not aimed at the home cinema market.
For the business user there are useful refinements like a timer that can be displayed on the screen for the duration of the presentation, or set only to pop up during the final few minutes. The remote control also includes a laser pointer. There's built in mono sound with a 10W speaker driven by SonicExpert™, ViewSonic's proprietary sound enhancement technology.
The biggest concession to the target market is that the projector's native aspect ratio is 4:3, the squarish Academy shape we all abandoned when we bought our flat-screen TVs, but which is still marginally the favourite for business presentations.
That's not to say, of course, that you can't carve out a respectable HD Ready screen across the middle of this. So when I got bored showing myself Powerpoint slides (this didn't take long) and was convinced that the machine's 3200 lumens was comfortably bright enough for 86 inch diagonal 4×3 business presentations from a distance of about 12 feet in broad daylight, I closed the curtains and switched to watching Netflix.
Like many other projectors of its type the PJD6352's imaging is based around the Texas Instruments Digital Micromirror Device (DMD), a single chip coated with tiny hinged mirrors, one mirror per pixel. This technology, more generally known as Digital Light Processing (DLP), was first developed towards the end of the '80s and has made huge strides over the past few years. The colours are richer, the luminosity range and contrast are much improved, and pixel separation is now invisible at regular viewing distance, providing smooth video imaging that makes screen resolution far less important. It's possible now to combine true-to-life cinema and crisp bright business quality presentation in the same machine. And that's what Viewsonic seems to have accomplished with its latest Lightstream series.
Fitting a 1280×720 "HD Ready" window into a 1024×768 XGA screen requires some behind the scenes juggling, because the projector's throwing away pixels top and bottom and having to squeeze the 1280 pixel width into just 1024 pixels across the screen. I would have expected this to result in a softish overall look.
But these days electronics can weave miracles. My eyes have a combined age of 148 years, but I can still see pretty well at projector screen distance, and I swear to you that in some of the close-up shots in Netflix excellent "Bloodline" series I could make out individual hairs on Sissy Spacek's head blowing in the Florida Keys breeze.
To get the best out of movies you need to understand the PJD6352's various colour settings. You can pick from the choice of :
Brightest mode: for use in a room with full lighting.
Dynamic mode: for presentations from a PC in a daylight environment where you need to match the PC colour gamut as closely as possible while the projector optimises the image quality by varying the brightness of the lamp.
Standard mode: as for Dynamic mode but without varying lamp brightness.
ViewMatch mode: Viewsonic's proprietary mode that attempts to offer the highest possible brightness while maintaining the best colour accuracy (eg, for skin tones).
Movie mode: For delivering the best possible colour graduation in a well-darkened room.
Any of these modes can be used as a starting point for user modifications of brightness, colour, contrast, sharpness and so on. The advance settings section of the on-screen menu also allows for fine tuning of each of the primary and secondary colours individually, and although there doesn't seem to be the usual "User Mode" to save these modifications, any changes you make to one of these modes will be preserved when the machine is switched off.

I was feeding Netflix into the machine courtesy of a Roku 3 set-top box via the HDMI port. To attach older kit there's also a pair of VGA inputs (also doubling as component), and S-Video and composite are also catered for. As a bonus there's also a second HDMI input, squirrelled away under removable housing to the left of the lens. This is an MHL-supported socket (Mobile High-speed Link), which means (among other things) that it should be able to supply power to a limited number of supported devices like mobile phones. Clearly the intention is that such a device can be permanently installed under the housing without wires trailing outside, as the promotional literature suggests: "A neatly enclosed HDMI-MHL (Media High-Definition Link) compartment supports wireless media streaming from HDMI dongles or MHL connectors (like ViewSonic's WPG-300 and Google Chromecast)".
The problem with this is that the Chromecast isn't an MHL device and won't work without a 5v supply into its microUSB socket. Crucially, the "neatly enclosed HDMI-MHL compartment" lacks a USB port, and the only way to use a Chromecast in it would be to trail a wire out through the housing, which would rather blow the "neatly enclosed" aspect of things.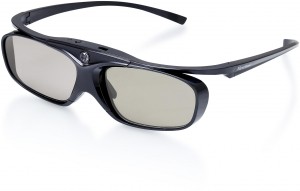 It goes without saying that like many other DLP projectors in this price range the PJD6352 can handle 3D. No glasses are bundled, and the official price for a pair of Viewsonic's own PGD-350s is anything upwards of £50. But if you're not picky (and I'm not) you'll probably prefer to buy any generic pair that plays to the DLP-Link standard, and eBay prices for these start at around a fiver.
Business and home users alike will be able to take advantage of the Ethernet networking capability of the PJD6352. I was surprised to find this feature built into a projector in this price range. Admittedly the networking is limited to control functions (everything you can do from the remote control can be done from a browser on the LAN) and can't be used to stream content like movies.  If you want to do that you'll need to add Viewsonic's WPG-300 HDMI-MHL dongle or the WPG-370 Ethernet and wireless accessory, neither of which I had a chance to test.
Setting up the PJD6352 for the LAN is commendably simple. Just plug an Ethernet cable between the projector and the your hub (assuming your hub uses DHCP – nearly all do by default), find "Lan Control Settings" in the projector's on-screen menu, make sure there that DHCP is switched to On, and activate the Apply button.
The projector thinks for a moment while your hub supplies it with a local IP address, and once you're connected you can visit that address from your browser and take control of all the functions normally accessed through the remote control, including powering it off. You can even get the projector to send you email alerts in the event of error conditions like lamp failure or overheating.
There's one small catch. The menu includes a second section called Standby Settings. If you omit visiting this and turning on the LAN Control toggle to wake the machine over the network, you'll find that once the device is off all control from the browser is lost.  The layout of the menu would make more sense if this toggle were incorporated into Lan Control Settings.
Conclusion
After I'd run my usual tests, without telling the family I swapped our usual 16:9 1080p home entertainment projector for this 4:3 720p projector. The projected screen size was a little smaller, but the change went unnoticed. In fact to my eye the colours were improved – Viewsonic's new Lightstream range claims that its "exclusive SuperColor 6-Segment Color Wheel maximizes color saturation and brightness", a promise that certainly seemed to be delivered. The lower resolution shows up in one respect – subtitles can be a touch raggedy. But other than that we were all happy to watch hours of movies.
You're not likely to confuse the PJD6352 with a dedicated home theatre projector selling for upwards of twice or three times the price. But although this product is clearly intended for the volume business market, Viewsonic has pulled off a rather extraordinary feat, creating a competent all-rounder that is equally at home in the office or the living room.
Chris Bidmead