You can never have enough storage. 
My first hard drive, back in the early '80s, was a Seagate ST-506, its massive capacity of 5MB (yes, that's MEGAbytes) being a snip at around £3,500 in today's money. 
My current MacBook Air hosts a solid state drive (SSD) that's physically an eighth of the size and over 50,000 times the data capacity.
But, as I say, you can never have enough storage. Wheel on the Toshiba Canvio Premium Portable drive.
---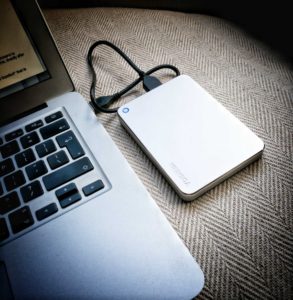 THIS 1TB VERSION OF THE CANVIO PREMIUM (capacities go up to 3TB within the same form factor) is the model intended for the Apple Mac, and arrives ready formatted as HFS+, the Hierarchical File System originally introduced by Apple in the mid-80s. HFS was enhanced to the Plus version in the late '90s to accommodate long file names and much larger file sizes.
The shirt-pocket-sized drive weighs just 250g and connects to your computer via the supplied USB 3 cable. A USB 3 to USB C adapter also comes with the drive for connection to newer Macintoshes.
HFS+ and NTFS
HFS+ is a proprietary format, and its drives can't be read on Windows systems without special additional drivers. If you're swapping a Canvio drive between Windows and Mac it might be better to reformat it to NTFS (or just buy the Windows version, which is already NTFS-formatted).
Introduced in the mid-80s as a spin-off from the ill-fated IBM/Microsoft OS/2 project, NTFS (it stands for "New Technology File System") is a Windows proprietary format can be read by all modern Macs. However, Apple never quite got round to making NTFS writable under Mac OS.
So for full interoperability between Windows and the Mac a drive like the Canvio Premium will need Mac OS to be running an additional filesystem add-on. Confident geeks can avail themselves of a somewhat hairy fix based on the free software Macfuse package. I've tried this, and it works. There are also at least two paid-for proprietary NTFS add-ons, from Paragon and Tuxera. You can find full details of all three approaches here.
The Tuxera NTFS driver is a little more expensive than Paragon's version, but claims to offer the fastest NTFS file transfer speeds. Toshiba actually includes Tuxera free of charge, but only with the Windows version of the Canvio Premium. Thanks to (full disclosure) Tuxera's generosity towards Tested Technology, this is the NTFS drive I now regularly use on my Macs, and can certainly recommend it as a solid and reliable aid to interoperability.
But with my MacBook Air, the HFS+ formatted Canvio Premium needed no extra software and was simply plug-and-play, as you'd expect. An instant extra 998GB capacity (a little is lost in the filesystem structure).
Shield-worthy
The surprise was that I could also wire the Canvio into my 16GB nVidia Shield, which also recognises HFS+.
There are a few hoops to jump through first. Down in the system settings you'll need to acknowledge the new drive as "Removable", otherwise the Shield will want to completely reformat it. Be aware too that Android now (since the Marshmallow update) by default denies all apps write access to external storage unless they request it and you approve the request.
The catch here is that some apps that haven't yet been updated to Marshmallow don't know how to make that request. Kodi is the prime example. It can happily read from an attached drive like the Canvio, but it can't write to it.
The X-plore file manager and ES File Explorer (sadly, less useful on the Shield, as it's very touch oriented) both know how to ask permission to write to external storage) so you can always save Kodi files to internal memory and move them across later.
Feeds and Speeds
The USB 3 connection is, of course, compatible with those ubiquitous earlier USB 2 sockets, but USB 2 will tie you down to a transfer rate of around 35MB per second. USB 3 (as on my MacBook Air and the nVidia Shield) opens up this connection to three times that speed. A portable drive like this one won't attain the full theoretical 640MB per second, but at least the connection isn't going to be a bottle-neck.
Blackmagic Design, the company that offers a superb, free for personal use, professional quality video editor, produces the disk speed test that I used to assess the Canvio Premium. Rather than just giving raw stats, the Blackmagic Design test provides a context, indicating how the drive would be expected to cope with various video editing projects.
Here I've set the size of the "stress file" that gets written and read back to the maximum of 5 GB. This is to ensure we're actually testing the rotating hardware, not just any cache RAM the drive might contain.
Canvio "Extras"
The drive as delivered includes two Mac applications. One is the HDD Password Tool, lightweight security software that enforces a password before you can access the drive. The other is PogoPlug, a remote storage facility that offers Toshiba external HDD customers 10GB of free cloud storage (but see below).
Real security would expect all the data to be encrypted as it's written to the drive. This is what FileVault, the drive encryption utility built into the Mac operating system does. Toshiba's tool only operates as a gatekeeper. The drive data itself remains unencrypted.
The value of Toshiba's HDD Password Tool is that it puts no extra burden on your Mac's central processor, maximising the read/write speeds. But if it's industrial quality security you're after, FileVault's already at hand.
PogoPlug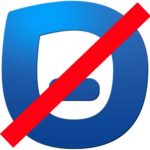 Pogoplug was at one time a hardware manufacturer of stand-alone devices that would accept one or more USB hard drives to be shared across the LAN or the Internet. Based on the SheevaPlug, these ingenious, Linux-based miniNAS devices seem to be no longer on the market.
Worse, the PogoPlug Cloud service appears to have closed down this September. The link to PogoPlug supplied with the Toshiba software no longer works. Further investigation shows the Twittersphere is buzzing with PogoPlug customers' complaints about lost data and the failure of the support desk to respond.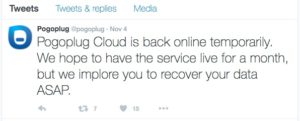 The latest news (as of 4 Nov 2016) is that PogoPlug has announced on Twitter that it's come temporarily back on line, urging current users to recover their data while they can.
Conclusion
Toshiba has announced on Facebook that
"Pogoplug intends to continue providing cloud service to Toshiba users and that your cloud service is not subject to the scheduled closure."
Despite this, the "10GB Cloud Storage" offered with the Canvio Premium is probably best ignored. I'm currently trying to find out from Toshiba how this will play out in the long term. I'll update this review when I know more.
But even without PogoPlug, the Canvio Premium is a stylish high-performance portable drive that fits nicely with Apple's design language. The three capacities (1TB, 2TB and 3TB) are each available in either dark grey metallic or silver metallic. The drive is guaranteed for three years, and Toshiba also offers a data recovery service, although that's not included in the warranty.
At the time of writing the best price for this 1TB version seems to be eBuyer's, at £67.82 including VAT and delivery.
Chris Bidmead