Confession: it's getting harder and harder to write these phone reviews. Either I'm becoming jaded or the phones are now just too darn good. Probably both.
The basic requirements of a good phone, once you move up from the entry level, are an up-to-date version of the operating system running on a fast processor in tons of RAM with lots of storage, displaying on a big clear screen.
Yes, and a high-resolution camera. Some punters also need a phone that looks sleek and sexy. Once you've got all that, you've hit Peak Smartphone.
And statistics suggest that the market is indeed beginning to hit Peak Smartphone. Punters are going SIM-only (something we've been advocating here since Day One) and holding onto their outright-buy phones for longer. (And why not? They were starting to pay the top end of three figures for these things.) No wonder sales across Europe were a significant seven per cent down at the beginning of this year. Globally, smartphone sales have been shrinking for the past three quarters and the indications are that in the USA and Europe the market is saturated. Even sales in China are on the decline.
So it's not just me. You're becoming phone-jaded too. What would shake us out of this jaditude?
Possibly something that delivers all those Peak Smartphone features—at half the price. Something like the OnePlus 6.
---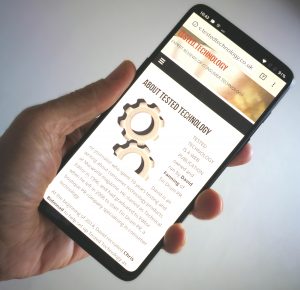 THE ONEPLUS 6, LAUNCHED IN MAY of this year, fits the best part of anyone's definition of a flagship phone. Its 8-core Qualcomm Snapdragon 845 is state-of-the-art, giving you rather more, I'd say, than the manufacturer's promised "Speed You Need".
It runs OxygenOS, a lightly modded version of the bang up-to-date Android 8.1.0, with a very reasonable expectation of timely future updates.
Its 6.3″ OLED screen, with an 84% screen-to-body ratio, is crisp and clear in all kinds of light from all kinds of angles. The version reviewed here comes with 8GB of RAM and 128GB of storage. The 3300-mAh Li-Po battery guarantees all-day performance, with hours to spare.
The main camera ticks all the boxes—it's a dual configuration with excellent light-gathering and optical image stabilisation.
How does the OnePlus 6 work out in the sleek and sexy department? No complaints there. The review model is a glossy Mirror Black, other options being a matt Midnight Black and Silk White, with Red arriving as a late addition some time after the launch. The beauty of these colours is more than skin deep—OnePlus has crafted these backs in the same Corning Gorilla Glass 5 that protects the screen on the front. Glass rather than aluminium allows the colour to permeate the whole thickness of the material, bouncing light back not just from the surface but also from the layers beneath. The resulting appearance is jewel-like. However…*
So What's Not To Like?
Nothing, seriously. A near-flagship phone you could happily put beside the iPhone X or a top of the range Samsung, but at around half the price? It's what OnePlus set out to do at its inception, and it's done it. But you (rightly) expect more than woozy approbation from Tested Technology, so here goes…
That Battery
You can't charge it wirelessly, and it's only 3,300mAh. The big guys are currently doing 4,000mAh. Yes, this would be a problem—if it were a problem.
In normal use (which here at Tested Technology doesn't include binge-watching Love Island all afternoon), there is plenty of juice left over at the end of a busy day. I admit to feeling more comfortable around larger batteries. And to put me entirely at my ease, please take me back to the days of a phone with a removable battery and a spare in my pocket.
But those days are gone. Since the era of my first Galaxy Note, the Android operating system has got a good deal better at sipping rather than gulping its juice. And the market is demanding ever slimmer devices. I don't believe any manufacturer today has the guts to put a mid- to high-end smartphone with a removable battery on the market.
Even so, wireless charging would be nice. The glass back of the OnePlus 6 seems to mourn the absence of this feature, and I was certainly a Qi evangelist at one time. Then fast wired charging came along. Wireless charging was always significantly slower than wired, but with the arrival of fast charging there was no contest.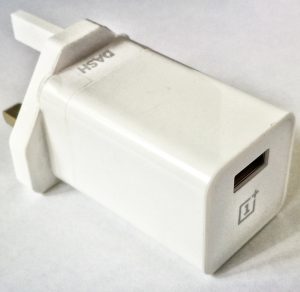 Admittedly, fast charging requires a special charger, and some manufacturers will leave you to buy this as an extra for around £20. Not OnePlus—the special Dash charger bundled with the phone will take the battery from 0 to 60% in just over half an hour.
The fast-charging solution used by OnePlus is proprietary to the Oppo Electronics Corporation. OnePlus and Oppo appear to be tightly linked: whether Oppo is the mothership or just the major investor seems to be moot. The relevant take-away here is that unlike the more ubiquitous Qualcomm Quick Charge technology, used by a variety of manufacturers that build around Qualcomm chipsets, Dash charging is currently confined to OnePlus phones only (but see VOOC).
On the (One)plus side, it's the fastest charging I've ever encountered.
That Camera
Is it any good? Yes. The main camera easily passes our business test—shooting hand-held in ordinary daylight being able to capture an entire broadsheet newspaper page to create a PDF that's clearly readable throughout. Even a double-page spread test, though a shade muzzy in places, was fully readable.
Since its inception in 2014, OnePlus claims to have paid serious attention to its cameras, making significant upgrades with each new device. However, the company clearly isn't determined to battle Apple and Samsung to the death at any price. Don't expect the finest camera on the market. Just a very good one.
For regular picture-taking, both the main camera and the selfie camera are up there with the best for many kinds of shots. The main camera is a dual array, with the primary having a 16-megapixel sensor with optical image stabilisation (OIS), meaning the lens moves physically to compensate for any shake in the main body, together with electronic image stabilisation (EIS), which cleans up shake with software.
The secondary camera in this main dual array has a 20-megapixel sensor. A paradox if you're just counting the pixels. But these pixels are 18% smaller (they catch fewer photons) and the lens dispenses with stabilisation of any kind.
Both cameras in the array have very decent light-gathering apertures of f/1.7. But with little explanation available about the symbiosis between these two units, I can't tell you how this main camera works. It's not a telephoto arrangement, nor is it the chroma/luma combination used in Huawei's Mate 9.
My best guess is that it's mostly useful for grabbing twice as many photons (the wider apertures also help, of course). As the primary camera has stabilisation, it's a fair guess that it majors on the luma aspect of the picture, capturing crisp edges like the mono primary in the Mate 9. Unlike the Mate 9 primary it can also contribute colour information, most of which (I'm guessing) is supplied by the non-stabilised secondary camera.
There are reports that the parallax between the two cameras may also be performing depth-sensing for Portrait Mode. However, several weeks after the launch in May, OnePlus rolled out an OTA update that also brought blurred-background Portrait Mode to the 16 megapixel, f/2.0 single selfie camera.
The main camera shoots 4K and 1080p resolutions at 30 and 60 frames per second (fps). Oddly, when shooting standard clips at 720p you only get the option of 30fps. But there's no real practical disadvantage here—if you want 60fps you probably also want 1080p or 4K quality.
However, the main camera also has a couple of video tricks up its sleeve. As long as you restrict your takes to one minute or less you can shoot super-fast footage: 1080p at 240fps or 720p at 480fps. Played back at normal speed this, of course, gives you slow motion, with the ability to produce stunning (and possibly very informative) takes of moving machinery or athletes in action.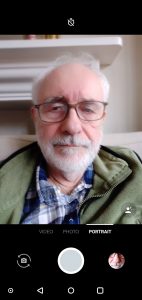 The other neat video trick is time-lapse photography. The camera takes a series of timed still shots that when played back at the standard 30fps show scenes that run 30 times faster. Impressive for cloudy skyscapes. But this is a bit of a one-trick pony as there's no way of changing the framerate. (A ton of apps on the Google Play Store are available for this.)
The selfie camera is a small, single camera, fitting neatly into the screen notch to the right of the phone earpiece. It has an aperture of 2.0, with a 16-megapixel sensor. There's no OIS, but it does use EIS. It will shoot video at 30fps in 1080p or 720p resolution and can do Time Lapse and Portrait Mode in much the same way as the main camera.
What makes all this rather good camera hardware particularly pleasant in practice is OnePlus's implementation of the Camera App. The user interface for phone cameras can sometimes be over-elaborate. But OnePlus has done an excellent job of simplifying access to some of the complex features.
Swiping sideways across the screen switches between Video, Photo and Portrait modes, while the lower third of the screen retains the same three large control buttons for (from left to right) Main-to-Selfie Switch, Shutter Button and Recall Previous Shot (see screenshot). Touching the symbol—a crossed-out alarm clock—at the top of the screen gives you access to the 3, 5 or 10 second delay timer.
Swiping up from this lower third exposes additional buttons for functions like Panorama and Pro Mode. Pro Mode, only available for the main camera, opens up full manual control over ISO, white balance and shutter speed, as well as offering the option to shoot in RAW.
As a bonus, the main camera can be set to spring into action instantly from the lock screen when the power button is pressed twice.
Flagship quality photography? You don't have to take my word for it—check out The Tech Guy's very useful YouTube comparison between the OnePlus 6 and the Samsung Galaxy S9.
*

That Glass Back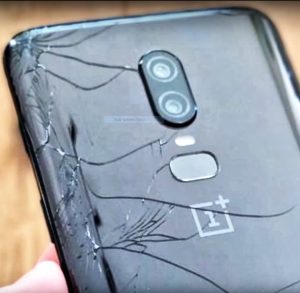 If you want a thin, strong back, metal is your man for the job. If wireless charging is on your feature list, those tough flexible plastic backs associated with replaceable batteries are optimal. Once clicked into place they became cunningly rigid. But with the fad for entombed batteries, as I say above, we're not likely to see those again outside the budget segment.
So that leaves us with ceramic or glass. Glass has the enticing characteristic we've already mentioned—the potential to produce a deep, jewel-like gleam. Even though the OnePlus 6 doesn't use wireless charging, it's this cosmetic aesthetic that has drawn OnePlus to employ glass here.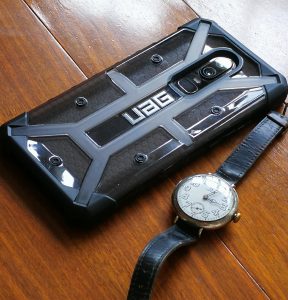 Which bring us to a real paradox, and it's not unique to the OnePlus 6. Yes, Gorilla Glass 5 is tough—for glass. But as the YouTube reviewer known only as ASBYT discovered through an inadvertent drop test, that glossy beauty is fragile. Glass can shatter, in his case after a drop of only a couple of feet.
The OnePlus 6 comes with an optional rubbery, translucent TPU case, which I'm going to insist readers who purchase this phone install immediately. I'd go further and for optimal assurance recommend something like the Urban Armor Gear case. Yes, it transforms your glossy jewel into something that looks like War Department surplus equipment. But at least you know your investment is safe.
That Screen
There's been some money-saving here in that its resolution is 1080p rather than the much more extravagant pixel-packing of, say, the latest Samsung Galaxy Note 9 at 1440×2960.
There are some advantages to keeping the resolution down. Each of those OLED pixels has a juice cost, so you're piling them on at the expense of the battery life. And with a screen even measuring as much as 6.3″ diagonally you're going to need to be very sharp-eyed to notice anything different above full HD.
There are two scenarios where a high-resolution screen will pay off:
Miracasting to a 4K screen. Particularly if the source is a high-resolution photograph, any system like Miracast that echoes the phone's display directly to a larger screen will produce a picture with resolution only as good as the originating screen.
Google Cardboard and similar VR use cases. Switching a phone to VR divides the screen into a pair of left and right images. Each, of course, will then have only half the width resolution of the full screen. Placing these images near the eyes and magnifying them, as any VR smartphone container will, puts the pixel resolution under very close scrutiny. High resolution in phones like the Galaxy Note 9 will definitely pay off in situations like this.
Reading mode: Manufacturer's Definition
Depending on ambient light conditions, reading mode will automatically optimise the screen colour temperature and calibration for text reading to match the environment, which can improve the reading experience
Driven by OnePlus' variant of Android, OxygenOS, the display has one talent I haven't so far seen elsewhere. As well as Night Mode, a regular Android feature that minimises blue light from the screen, this phone also has a feature called Reading Mode.
From the manufacturer's definition, this sounds very like Night Mode. But it doesn't just give the screen in general a slightly yellowish tint. It can be selectively applied to only those apps of your choice where displaying text is the primary function. As far as I've been able to make out, applying Reading Mode to apps like Amazon Kindle, Kobo Books, Moon+ Reader Pro, ReadEra and Play Book, simply switches them to monochrome.
I like Reading Mode. It gives a crisp look to the screen and does seem to make reading large chunks of text more palatable. Particularly classy is the way, when you switch out of a Reading Mode app, the screen gradually fades the colour back in. But there's a design oddity here.
Because Reading Mode overrides Night Mode. So if I'm using, say, the excellent free book reader app ReadEra to catch up on my Lee Child in the evening, Reading Mode's monochrome actually feeds blue light back into the screen to give me a plain white background. It ignores Night Mode and I can't say I've seen any evidence yet of that "depending on ambient light conditions" function.
Screenshots are elegantly handled. Except where an app will expressly exclude the capability, you can take a screenshot with an upward three-finger swipe. Immediately after the shot is taken, icons at the bottom of the screen offer the option either to share the result to another app (like WhatsApp, perhaps), edit it or (if it's something like a long Web page that exceeds the screen real estate) scroll and stitch it to record it in full or as much of it as you need. This last feature, which I first discovered on my Huawei Mate 9 and have used avidly ever since, seems to be becoming a very welcome standard Android feature.
And That Infamous Notch
Well, here it is. Or not—it's up to you. If you'd rather not see your notification icons squeezed up to the very top of the screen and distributed on either side of the notch to maximize your display real estate, there's an alternative. You can elect to replace the whole top row with a plain black bar for a more conventional look.
As notches go, this one really isn't too bad. It measures just 19.62mm x 7.69mm, considerably narrower than Apple's iPhone X. It's there because OnePlus couldn't resist the option, now offered across the board by display manufacturers, to make the utmost of the available 18:9 screen ratio.
I've learnt to live with the notch and the deeper screen display that results. The operating system also allows you to play similar games with the navigation bar at the bottom of the screen. In standard mode, the Back, Home and Recent buttons either translucently overlay the main screen or occupy their own opaque ribbon. But you can set this row up to disappear completely, only reappearing when you swipe up from the bottom of the screen.
That (non) IP Rating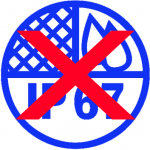 IP stands for Ingress Protection, and is an official metric of the impermeability (or otherwise) of the device to dust and liquids. Flagship phones these days proudly flaunt their IP ratings, usually IP67 (no dust gets in, and water resistant for up to 30 minutes at a depth of 1 metre) or IP68 (no dust or water ever gets in).
If you look for the OnePlus 6's IP rating you won't find it. The manufacturer describes the OnePlus 6, not entirely helpfully, as:
"Water resistant under certain conditions. OnePlus does not recommend excessive submersion."
Not optimal, obviously. Unlike Samsung's flagships, you won't officially be able to drop the OnePlus 6 down the loo with impunity (I gather this is the cause of the majority of smartphone water-damage reports).
So just don't. Out in the rain, according to the manufacturer, you should be OK.
That (Absent) µSD Slot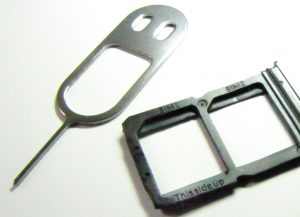 There's no option to add a µSD card. There's a dual-SIM tray, which some will find handy, but the frequently encountered option to use the second SIM slot alternatively for µSD isn't present here.
I like being able to expand the storage, particularly as Android since version 6 now offers "adoptable storage", allowing you to choose to meld the phone's internal storage and the plug-in flash card into a seamless whole.
While we're on the subject, please don't let anyone describe any phone as having xxGB of RAM and yyGB of ROM. ROM stands for Read Only Memory, and if that's what your storage is the phone just won't work. And yet manufacturers and IT journalists call storage "ROM" all the time.
Of course, this feature—introduced while 8GB and 16GB internal storage were still the smartphone norms—is a lot less critical these days.
The cheaper of the two OnePlus 6 variants, at around £450, comes with 6GB of RAM and 64GB of storage, while the version reviewed here (at around £520) has 8GB of RAM and 128GB of storage.
The internal storage should be enough to see you through the lifetime of either variant. Cloud storage (from Dropbox, Amazon, Microsoft and many others) is readily available for overflow. If you do run into a storage squeeze, OxygenOS includes a handy Filemanager (under Settings/Storage & Memory/Explore) that presents a visualisation of your storage use together with tools for sorting out your large unwanted files from your often-used favourites.
And So…
Yes, this OnePlus 6 has definitely unjaded me. I intend taking it to the upcoming Berlin IT-fest, IFA, securely wrapped in its UAG protection, as a benchmark against all the other phones I'll be encountering there.
Full disclosure, Tested Technology gratefully acknowledges donation of the UAG case, although (sadly, and somewhat exceptionally) the OnePlus phone is due to be returned once I get back from IFA. The link to UAG above isn't an "affiliate link", so feel free to buy it (or not) wherever you like. But do, please, use some kind of protection on this phone. It's too good to risk breaking.
The short lease on the OnePlus 6 itself probably means I won't be able to deal with readers' follow-up questions or use it as a touchstone to assess future products. Negotiations on this are still continuing, but either way, this is a smartphone Tested Technology can thoroughly recommend.
Late Breaking News
We had the opportunity at IFA to talk to OnePlus Global personnel. I'm very happy to report that the company has generously agreed to leave the smartphone with us so that we can follow future developments and remain able to respond to readers' questions about the product.
—
Chris Bidmead