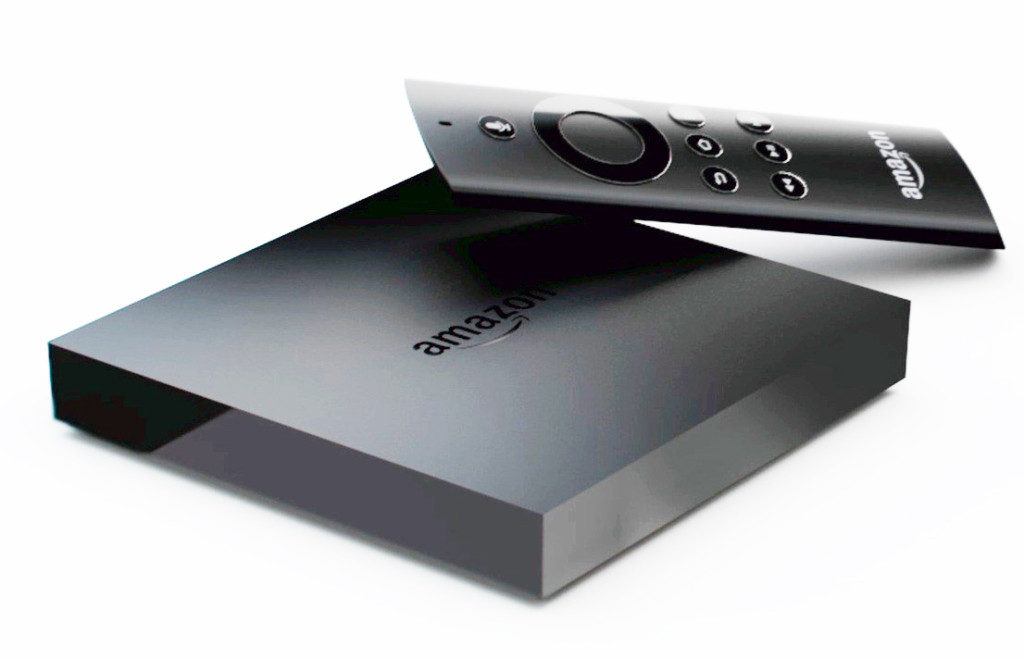 A couple of months ago I reviewed the Amazon Fire TV Stick, an HDMI plug-in device with 1GB of memory and a dual core processor designed to connect wirelessly to the Internet to turn your dumb TV into a smart one for £35. Paying a little over twice that price gets you the Amazon Fire TV, a larger set top box with a more powerful quad core processor, twice the memory and the option of a wired Ethernet connection. But is it worth making the jump?
THE MOST OBVIOUS differentiator is that the Fire TV Box (I'll call it that here for clarification) brings you more gamesplaying. Most of the so-called "casual" games (that you can also play on the Fire TV Stick) will work using the bundled remote control, but if you want to explore the additional repertoire of "high performance" games you'll probably be tempted by the optional game controller – not cheap at an additional £40.
I'm no great games buff, but – purely in the interest of this review, you understand – I've spent several nail-biting hours behind the wheel at race tracks in Nevada, Tokyo, and Iceland with Asphalt 8: Airborne. It's a fast, exciting game, although its simplified graphics aren't a match for the kind of detailed panoramas we've come to expect from dedicated consoles like the Playstation 4.
The improved specification over the Fire TV Stick doesn't just show up in the games, though. Navigation is noticeably smoother through the large choice of movies, documentaries and TV series – many of them free to subscribers to the Prime Instant Video service (a 30-day trial comes with the box, and it's £5.99 a month thereafter). The larger memory gives you space to load more apps.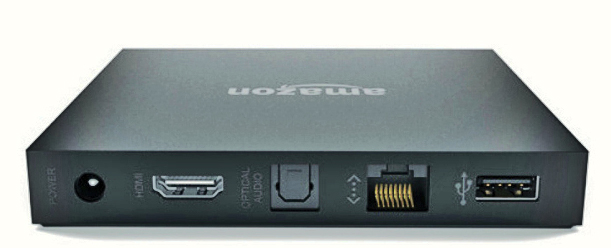 Physically the Fire TV Box is an elegant black small rectangular cuboid, 115 x 115 x 17.5 mm, slim enough to fit neatly into the ventilation space under the Yamaha AV Receiver I'm currently feeding its HDMI output into. As well as its quad core Krait 300 main processor and Adreno 320 GPU (both from Qualcomm) it houses 2GB of RAM and 8GB of internal Flash memory.
Nothing shows on the front panel except a bluish-white power indicator light. At the rear are (from left to right) inputs for the bundled power supply unit, an HDMI output port, an optical audio output port, and an Ethernet socket. Unlike the Fire TV Stick there's also a USB socket for expanding the memory. This allows you to store movies, and you can even move application data there, with some restrictions.

The remote control is small, simple and fits nicely in the hand (other audio/video manufacturers have yet to learn how to do this), very like the Fire TV Stick's equivalent, but with one radical innovation. The button at the top, above the circular navigator, activates a microphone which initiates an audio search. The scope of this search doesn't unfortunately extend to everything accessible on the Fire TV Box, only covering what's available on Amazon Prime Instant Video. In every other respect the remote control works exactly like the one I've already discussed in the Fire TV Stick review.
Amazon's official Fire TV Appstore appears to offer a strict subset of the much larger list available through the Android Amazon AppStore. Actually many of the Android apps missing from the Fire TV Appstore will work (the Fire TV Box and Stick are both basically Android devices) but have been excluded because Amazon feels they won't work well (they may, for example, depend on user actions like fingerwork not available on the Fire TV.). Amazon doesn't always seem to be right about this: for example you won't find the excellent ES File Explorer in the Fire TV Appstore, but if you side-load it you'll have a valuable tool for exploring the internal file system and reaching across your LAN and onto the Internet.
There's another class of app that Amazon excludes from both the Fire TV Appstore and its Amazon Appstore, on account of being judged malicious or facilitating illegal downloading. Kodi, the XBMC successor I mentioned in my review of the Fire TV Stick, falls into this category.
True, Kodi will accept plug-ins that do this – but then so will any browser.
Shortly after I wrote my earlier review, where I recommended side-loading Kodi onto the Fire TV Stick, the app appeared not just in the general Amazon Appstore, but also in the store specially curated for the Fire TV devices.
I was delighted that Amazon was officially recognising the excellence of this free software package, and users would no longer have to run the gauntlet of side-loading. My delight lasted less than a week. Amazon pulled the app.
Perhaps Amazon had read my review. My bad. In it I characterised Kodi as the app that breaks the Stick out of the Amazon walled garden and opens it up to the whole Internet.
Which it actually does. But I went on to imply that this included unauthorised movie and music downloads. I want to emphasis that as installed Kodi will not do this. Yes, there are third party plug-ins you can add to do all sorts of things with Kodi, but the XBMC Foundation isn't responsible for these. Amazon should restore Kodi to the Appstore. The Fire TV Stick and Box deserve it.
It's not as if Amazon is exerting any proprietary lock-in, because rival content-deliverer Netflix is represented among the available apps. In my Fire TV Stick review I also welcomed the presence of Plex, the streaming client/server app that handles videos, music and photos from your local area network. A nice feature of Plex is that it can automatically seek out and download pictures and text related to what you have on your LAN, effectively creating your own home equivalent of Netflix.
Unfortunately since I wrote the Fire TV Stick review Plex updates seem to have got themselves into a tangle and the app isn't working at all well on either of the Fire TV devices. However, if you're prepared to jump through a few hoops to side-load Kodi (google for "Kodi Fire TV"), it will do everything Plex can do and more.
Conclusion
The total price of around £120 if you include the games controller makes the Amazon Fire TV Box look like a bargain games console. But dyed-in-the-wool games players are likely to be disappointed by the quantity and quality of the games available. If you're a casual Amazon Prime Instant Video and/or Netflix subscriber and your smart TV doesn't already support these applications, the cheaper Fire TV Stick may suit your needs.
However, for full-on movie fans, and the more adventurous who want to explore the reach and scope of apps like Kodi, £80 for the Fire TV Box will seem like a small price to pay.
Chris Bidmead