The entry level of the home entertainment projector market has become savagely competitive of late. Yes, there's a race to the bottom price-wise. But there's also a compulsion among the more reputable manufacturers to do better, to offer improvements not only over their rivals but also over the products in last year's catalogue. It's big win for customers.
BrilliantColor

Single chip DLP projectors are essentially monochrome. Colour is created by a spinning wheel of colour filters that syncs its rotation to the red, green or blue image component serially created by the DLP chip. TI's BrilliantColor adds three more "secondary" colours: magenta, cyan and yellow.
Nearly all the entry level projectors are based on the same core technology, a range of  digital light processors from Texas Instruments. Just over seven years ago that company added a new feature, BrilliantColor, designed to increase the colour gamut (broadly speaking, the range of colours able to be displayed). 
Originally a useful product differentiator, BrilliantColor has since been adopted by DLP projector manufacturers across the board (although many cinephile purists deprecate it). The search is now on for other distinguishing features manufacturers can use to make their mark in the sub-£1000 market, and Optoma has settled on DARBEEVision. What that means exactly I explore below.
---
OPTOMA'S NEW HD28DSE  is a powerful 3,000 lumen home entertainment projector with full high definition resolution. Weighing in at 2.58kg in a compact 315 x 224 x 114mm (WxDxH) chassis, it uses DLP technology to produce an excellent 30,000:1 contrast ratio.
These figures are not untypical for the entry level end of the DLP market these days; what the HD28DSE has going for it are two key differentiators: an unusual design that puts the input ports on the side of the machine rather than the back, and the DARBEE image processing I've already mentioned.
Direct Input: The Snag

These plug-in sticks deliver their audio through the HDMI connector; plugged directly into the HD28DSE they'll have to rely on the projector's own internal sound system. Optoma claims this offers "exceptional sound quality… without the need for costly external speakers."  Here Optoma and I part company.

With the exception of business presentations, the only sound from your projector should be the (hopefully) quiet whirr of the cooling fan. Even if the built in 10 watt speaker had the full frequency range and dynamics you'd expect from a movie (and a small chassis designed to manage light can offer nothing like this) the audio is still originating from quite the wrong part of the viewing room.

That side panel of input ports is perfect for a reviewer, or anyone else likely to spend time physically plugging in new devices. The two HDMI 1.4a inputs each support 3D and MHL (Multimedia High-speed Link), which means that with an appropriate adaptor you can play video directly from an MHL-enabled phone. If—as I did for this review—you've connected the main HDMI port to an AV Receiver, the second port could also be occupied by something like the Roku Streaming Stick, the Amazon Fire Stick or the Google Chromecast. Although the MHL specification allows dongles like these to be powered through the HDMI connector, none of these particular devices takes advantage of this, and they need external USB power. The HD28DSE is ready and waiting for this with a powered USB port included in the side panel (but see Box left).

3D Syncing

In 3D mode, left and right images are projected in sequence, 120 times a second, and the 3D glasses use LCD technology to obscure the right and left lenses in synchronisation with this. DLP-Link maintains this sync by inserting very short bright flashes of light between the images at a time when both lenses of the glasses are obscured.

Avoiding the need for a special syncing channel and relying on a simple photo-cell in the glasses to read the sync signal makes DLP-Link very economical. The downside is that sync may be lost if the viewer temporarily looks away from the screen. Vesa Stereo avoids this problem by relying on a wireless channel for the sync, and so requires additional electronics in (or attached to) the projector and the glasses.

This is also where you'll find a 12v port to trigger a motorised screen. Unusually for a projector in this price bracket there's also a DIN socket here for connecting a cost-option VESA Stereo syncing device (see Box Right), although the projector can handle 3D perfectly well using its built in DLP-Link.

The review sample arrived with no manual, so it took me a while to find out how to activate the "integrated DARBEE Visual Presence image enhancement technology". The several movies I tested before discovering it looked very good, so I was in no particular hurry. It turns out that the DARBEE function is hidden deep in the menu that the remote control Menu button pops up. The first section on this menu is IMAGE, and I expected to discover DARBEE under the Advanced subsection. It was there, in fact, but in no immediately obvious way: buried down at the bottom of the Advanced subsection, and only visible when you scroll down.

As interface design this is nuts. The UI is using different numbers of rows for each of the menu sections and subsections, allowing the menu box to lengthen or contract accordingly. So there's no reason at all why there shouldn't be an additional row to accommodate DARBEE. Instead it's Menu/IMAGE/Advanced/[Scroll Down to find…]DARBEE.

There is a useful workaround, however. The remote control includes three "User" buttons, and you can dedicate one of these to Darbee (although the option to do this is, again, buried deep within Optoma's design-flawed menu system),

So what does DARBEE actually do?  Optoma's marketing bumf tells me it  "uses neuro-biologic algorithms to enhance detail and depth in skin tones, textures, and reflective surfaces" and that "the end result is video games, Blu-ray movies and HDTV programming with amazing image clarity." On first reading, frankly, this left me none the wiser: most of the current generation of entry-level DLP projectors seem able to dazzle me with their image clarity.

Adding that it uses "computation to process images in the same way the brain does" didn't help much either. If, in any case, my brain is already doing this processing—with the optic nerves feeding an inexplicably huge number of the brain's processing elements (see box)—I found it hard to see how DARBEEVision's contribution could produce "revolutionary and never-before-seen levels of depth, clarity, object separation, and realism".

"Roughly half of the brain's cortex, perhaps 50 billion neurons and 10 trillion synapses, are engaged when we simply open our eyes and look…"

Donald Hoffman, Professor of Cognitive Studies, University of California Irvine.

I uncovered a rather more down-to-earth explanation from the inventor himself, Paul Darbee, in a very entertaining TWiT interview on YouTube. The processor comprises two parts. The core creates a pair of images from the single original, approximating to the left and right views a 2D-to-3D processor might obtain. These images are then defocussed and differenced against the original in a sophisticated version of a venerable photographic technique, dating from 1930s analogue photography, called "unsharp masking".

Unsharp masking will sharpen detail across the whole of the picture, in some areas producing unpleasant side effects like over-emphasised edges and exaggerated textures. This is where the second part of the DARBEEVision processing kicks in. Paul Darbee describes it as "the perceptor", which he says makes up around 85% of the whole DARBEEVision algorithm.

The perceptor "pays conditional attention within an image to just parts of it", says Darbee. "We run a type of 'saliency map', as it's called in the trade, which makes an estimate of what's of visual interest within the frame." The perceptor—the "neuro-biologic" part of the algorithm described in the marketing bumf—then applies the defocus-and-subtract part of the algorithm selectively to those parts of the image that score high on the saliency map. The net effect is what Darbee describes as "adding drop-shadow" around the areas the human eye is most likely to seek out within the frame.

Sadly, Paul Darbee died suddenly less than a year after that interview. But DARBEEVision, at the time sold only as standalone devices called The Darblet (for general video) and The Cobalt (for gaming), is now proliferating into other devices like Blu-ray players and this Optoma projector.

But is it any good?

Yes. Stepping back from the pseudo-science of the marketing claims and simply watching the screen (which is what it's all about) I've come to the conclusion that Paul Darbee was on to something, although he's certainly messing with the original image in a way that may make purists wince. DARBEEVision is almost infinitely adjustable in this Optoma implementation right up from nothing at all to what's described as "120% Full Pop", and screwed up to max it can definitely make a cruel mess, particularly if you're feeding it a low resolution image to start with.

But using the mildest flavour of DARBEEVision, labelled "Hi-Def" applied at around 75% to a good 1080p or 720p original image really does give a pleasant impression of enhanced detail and liveliness. Surface textures seem to become more tangible; freckles on skin are more noticeable; landscapes become crisper. On a 100″ screen like the one the HD28DSE produces on my living room wall the effect is convincingly similar to gazing at a giant 4K image.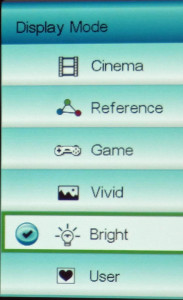 DARBEEVision aside, the Optoma HD28DSE is packed with features (although you may have to wade deep into the menu to find them). There are six different viewing modes in all, any of which can be fine-tuned and stored under "User" (not to be confused with the three "User" buttons on the remote control). I mainly stayed with the pre-set "Cinema" setting for watching movies, switching to "Bright" for playing Asphalt 8. True to its name, this mode gives a solid enough picture for me to be able to negotiate the narrow streets of Venice at high speed in broad daylight. And that's in Eco mode, which the manufacturers tell me should give a lamp life of 8,000 hours.

The DARBEE standalone devices cost around $300, so having the technology incorporated into a £700 projector of this quality is something of a bargain. PMA Research, the company that tracks sales of this kind of equipment worldwide, tells me that Optoma has been the number one 1080p projector brand in UK for the last five years. Adding DARBEEvision to an already excellent display device should certainly help keep Optoma in the lead.

HD28DSE specifications
| | |
| --- | --- |
| Native resolution | Full HD 1080p (1920 x1080) |
| Contrast | 30,000:1 |
| Brightness | 3,000 ANSI lumens |
| Throw ratio | 1.48 – 1.62:1 |
| Weight | 2.58kg |
| Full 3D | Yes |
| Lamp life | 8000 hours (dynamic mode) |
| Dimensions | 315 x 224 x 114mm (W x D x H) |
| Inputs | 2 x HDMI (1.4a 3D support) + MHL |
| Outputs | USB-A power, audio out, 12v trigger, 3D-sync |
Chris Bidmead