Smartphones are getting smarter. And some of the smartest are also getting cheaper. Phones with features that would have put them in the flagship class three years ago are now hitting the market at mid-range prices.
Which raises a question about today's flagship phones. Are they really offering that much extra value for their asking prices of £900 and above?
Tested Technology has a perspective on this that you may not share, so it would be only fair to set it out here. We're big on function and vanishingly small on bling. Function includes well thought out design; bling is the depth of sheen on the pearl-like glass back. Today's phones are EDCs (every day carries) and they're going to get knocked around. They deserve a resilient case. The case, of course, can be a fashion statement. But the bejewelled craftmanship of the phone itself will be veiled from human sight.
Function includes form-factor and handleability, big, clear screens that respond fluidly to touch. We don't much mind if that screen stops at 1080p because we think even the largest manageable smartphone screen benefits only very marginally from higher resolutions. Much the same goes for refresh rates above 90Hz, which is where the flickering stops. There's a sound argument for higher refresh rates for gaming. But if you're paying a grand for a phone you can game on, we think you'd be better off putting the same money or less on a decent projector and fighting your wars on a 120″ screen.
We don't pay a lot of attention to the old question of whether your thumb can reach right across the screen—small phones are still available if that's an issue for you. We think a modern full-sized smartphone is designed to be held in one hand and manipulated by the other.
We don't thumb-type, either. Quite apart from being a notoriously injurious habit, it leaves you stuck in the late '90s while the technology has moved on to swipe typing and dictation. Cameras, well, frankly they're mostly amazing in the mid-range. And can, but not necessarily, be absolutely astounding with some flagships. Optical zoom, optical stabilisation, really good night shooting are features that still don't come cheap. So if you're insisting on being able to whip a phone out of your top pocket for an extraordinarily crisp shot of a magpie in flight across an amber sunset—and have the eye and the dexterity to execute the shot—a four-figure flagship phone may well be your best option. But for the rest of us…
With all that out of the way, let's take a look at a smartphone that has been touted as "a flagship phone at a mid-range price": the Xiaomi RedMi Note 10 Pro.
---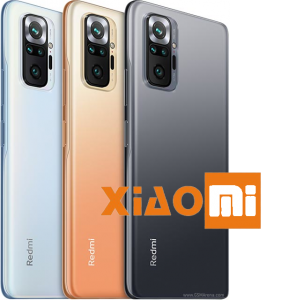 REDMI IS A SUBBRAND of Xiaomi, the Chinese general devices manufacturer whose smartphones rank fourth by volume in the global market. Xiaomi's Redmi should not be confused (but easily is) with another, rather smaller, Chinese smartphone manufacturer, RealMe.
The Redmi brand represents the mid-range of Xiaomi's smartphone offerings but has been pushing upwards in recent years. Selling in the UK for around £270, the new RedMi Note 10 Pro has a proud "flagship" ring to its name and to a large extent, this is fairly earned, despite the low price.
The 8-core processor (the two main cores running at 2.2 GHz with six auxiliaries at 1.8 GHz) is perhaps not going to satisfy avid gamers but offers more than enough horsepower to keep the phone running smoothly and responsively under any regular heavy workload. The 6.47 inch diameter AMOLED screen, refreshing well above flicker-level at 120Hz, has a resolution of 1080 x 2340—more than enough pixels to display crisply legible text and well-detailed pictures.
The screen is protected with Corning Gorilla 5 glass. This quality is a couple of generations behind Corning's latest development but nevertheless a very respectable price compromise.
Two areas where Redmi hasn't, thankfully, compromised are audio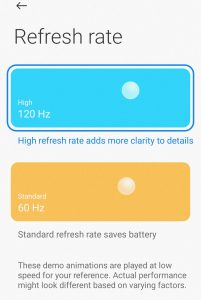 and the battery. Audio is available through the good ol' 3.5mm jack, via Bluetooth 5.0, including the superior AptX codec, and also as direct stereo from two speakers at the top and bottom of the case. The soundscape from these two tiny speakers is surprisingly good and at a pinch you'd have no problem enjoying an action adventure movie on this phone, particularly if you angle it in a corner or inside a half-open book to help the sound be thrown forward.
Tested Technology allows itself a moan from time to time about the fact that phone batteries—the one element of any portable device that depends on short-lived chemistry—are now more or less permanently entombed in their cases.
Yes, battery entombment makes it possible for the manufacturer to sell you a seductively slim device. And as a side-effect, continue to sell you replacement seductively slim devices every couple of years.
However, the ameliorating factor here is the increasing capacity of these batteries. Back in the days of Samsung's original Note (the first of the much-mocked "phablets" that pioneered this now standard form factor), its 2,000mAh capacity was regarded as generous. Nevertheless, I always needed to carry a spare battery in my pocket as the juice would start running very thin around teatime. On-the-fly battery swapping was essential.
The Redmi Note 10 Pro's battery has a 5000+ mAh capacity that is typically seeing me through two days of use. When the time comes to charge it, the supplied 30W fast charger can pump the battery back to full charge in a little over an hour. 
Storage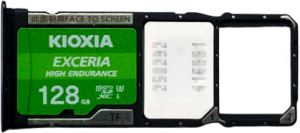 Our review model is the cheaper version with 6GB of RAM and 128GB of storage. You can pay more for the 8GB/256GB version, but 6GB of RAM seems to be plenty with the now well-optimised Android 11 operating system. And if you need more storage than the basic 128GB you can always add a microSD card (up to half a gigabyte) in the first of the three slots provided by the long dual-SIM tray.
Dual-SIM capability is useful, I'm told, although I've never managed to find the best way to take advantage of it. Perhaps it might come into its own for separating work from play, lovers from spouses, your daily office commute from your side-hustle as a cocaine dealer. But in most cases, wouldn't it be better just to have two phones?
That's what the smartphone's specs say. Kioxia generously donated one of their Exceria 128GB microSD cards for testing— a good choice, as its read speed of 100MB/s and a write speed of 65MB/s make it fast enough to qualify as adoptable storage. 
By default, external storage added to an Android device is assumed to be significantly slower than the internal storage used for applications. So Android says to the newcomer, fine, you can hang around, but I'm only going to let you take care of stuff like photos and MP3 files. Applications with their config files and other immediately associated data need speed. So I'll be keeping all that in internal storage.
Back in the day, prior to the arrival of Android 6.0 (or Marshmallow, as we hardly ever called it), this was a fair assumption. But as these cards got a lot faster it was becoming feasible to meld them into main storage in a way that was more or less transparent to the system. With Marshmallow, your Android device could effectively grow its 32GB storage into 64GB just by slotting in an extra card. This process Android called "adoptable storage".
Far too often you'll see reviews and even manufacturers listing storage capacities as something like 128GB ROM. ROM stands for "read only memory". By definition, you can't write to it, so would be useless for keeping your photos and music. Phone storage needs to be—and of course is—persistent read/write memory.
Adoptable storage encrypts the new card against a unique passcode to ensure it's only used in that particular device and then marks it as usable for applications as well as general data.
Sadly, it turns out that the Redmi Note 10 Pro doesn't do adoptable storage. Why? Probably because internal flash storage has become very much faster since the Marshmallow days. Even today's very fast microSD cards like the Kioxia Exceria might, manufacturers fear, give users the wrong impression of the product by slowing down performance if melded into the internal storage.
Xiaomi is one of those manufacturers, it seems. So they've declined to implement the normal procedure for setting up adoptable storage in the Redmi Note 10 Pro. But if you fish around on the Internet there are reportedly ways around this. Tested Technology hasn't investigated these procedures and can't recommend them.
So even with the Kioxia card, the ability to add new applications is going to be restricted at some point. But perhaps adoptable storage is now obsolete: 128GB is eight times the capacity of those smartphones that it was invented to relieve. The Redmi Note 10 Pro's 128GB is enough internal storage for buckets of apps—this particular smartphone accumulated over 300 of them during the course of this review.
The apps, of course, don't take up nearly as much room as movies. And even photos—with the ability of the Redmi Note 10 Pro to shoot RAW—can be huge space gobblers. The Kioxia card is very much at home accommodating these kinds of files. And its U3 speed class qualifies it for real-time recording of video files up to 4K.
The Case for a Case
This is a phone sandwiched between two pieces of glass joined by a polycarbonate frame. YouTubers have demonstrated that it's reasonably resilient to water ingress*, despite only having an IP rating of 53 (it'll keep out dust and is protected against light spray).
But glass is glass and we wouldn't recommend taking this phone anywhere without a case. 
The good news is that one is bundled with the phone. The less good news is that it's made from translucent polyurethane reminiscent of one of those 1950s semi-transparent plastic macs.
But its protection is adequate. The Volume rocker button on the right-hand side of the phone is completely enclosed under a moulded shape in the PU but the Power button below it marries with a cut-out in the case, as this button doubles as the fingerprint reader. There are corresponding cut-outs around the perimeter of the case for the speakers, the 3.5mm headphone jack and the microphones.
The USB Type 3 charging and data socket is also a cut-out but this one is covered by a hinged PU flap. This flap slightly complicates the charging process but avoids pocket fluff accumulating in the USB port.
*
The Gupta Information Channel, which describes the construction as "flimsy", submersed the phone under water for five minutes, after which time it continued to work—but only for another few minutes
.
Sometimes a case can solve the problem of the camera bump, adding just enough thickness to the back to compensate, allowing the phone to lie flat on a table or slide smoothly into your shirt pocket. But not in this, er, case. 
Styling Your Redmi Note 10 Pro
With the help of the very latest Android 11, in Xiaomi's tailored version it calls MIUI 12, you can style the Note 10 Pro pretty much to your own tastes. Themes, Wallpapers, the arrangement of the bottom-of-the-screen navigation buttons, whether to use an always-on Lock Screen (and what appears on it) are all things you can change at your own discretion.
If you want animated wallpaper—battery-draining but something the large capacity battery makes feasible—MIUI 12 offers the widest choice I've seen on any phone.
Perhaps the most distinctive change you can make to your smartphone is to swap out the system font. But this is something manufacturers are often restrictive about. The wrong font can mess up a screen and if the user's choice of a font does this it's easy to get the impression that the manufacturer is at fault.
This is probably why manufacturers like Xiaomi tie fonts into Themes. A Theme is a combination of Lock Screen, Home Screen and system font. It will also include the way app icons are displayed, rendering them circular or square and/or adding a unifying frame around them. By bundling only the fonts that work well into each particular theme the manufacturer avoids ugliness and illegibility.
By default, however, the Themes app on our review model didn't include the ability to choose a system font. Many apps in the Google Play Store purport to make system font switching possible but this tends to be limited to specific makes of phone. Some of these may well do the job but we didn't find any that worked with the Redmi Note 10 Pro. And the ones we tried tended to be riddled with adverts to the point of unacceptability.
However, it turns out that there's a ridiculously simple (and simply ridiculous) trick that Redmi Note 10 Pro users can fall back on here. The MIUI 10 Themes app does after all include the ability to swap the system font. But only for certain global regions!
All I needed to do was to go to Settings/Additional Settings/Region and tell the phone it was in India. Yes, I felt beastly lying to my phone like this but my Public School training reminded me that it didn't count as long as I kept my fingers crossed behind my back. 

 Once you've performed this deceit, when you reopen the Themes app (or find Themes under Settings—it amounts to the same thing) a new icon option marked "Fonts" appears at the bottom of the screen.
Tapping this icon leads you to pages and pages of optional system fonts. It's true that the majority of these are what you might charitably call "Novelty Fonts", good for not much more than evoking the ridicule of your friends and family.
But I found plenty that were aesthetically pleasing. You can download as many of these as you like. But only one of these can be your system font, instated once you've rebooted your phone. 
Now you can straighten things out with your phone by confessing the lie and returning it to its true location. The ability to switch fonts will disappear from the Themes app but your chosen new system font stays in place.  Future changes to your system font will require another trip to India, whereupon you find all the other system fonts you downloaded previously instantly available.
5G, Ho Hum…
The Redmi Note 10 Pro is not a 5G phone. I'm OK with that.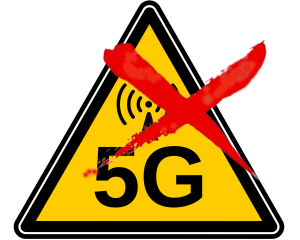 During the pandemic, most of my Internet connection from the phone has been over Wi-Fi. If I'd been out and about more during the testing and if during those outings I'd have had occasion to download several 4K full-length movies (assuming my wanderings were in one of the major UK cities with adequate coverage) I might be more enthusiastic about 5G.
I've no objection to 5G (no, it doesn't cause Sars-COV-19) but at this early stage of the game, I don't find I'm itching for it.
A 5G version of this phone is expected and if it comes our way, Tested Technology will be happy to review it, or more likely, just add some notes to this present review. But I'm not looking forward to gobbling up my GSM data quota (and my battery) with a technology that may well add significantly to the price of the phone. Or oblige the manufacturer to compromise on or omit other features.
5G, yes. But not quite yet. 
More to Follow
In the next part, we'll come to the all-important camera. Or rather, as I'm going to insist on calling it, the "camera array". 
Yes, this tends to make for a more clumsy description. But we're not going to yield here to the fashion of calling them "lenses". Each visible lens fronts its own individual tiny camera.
It's true that the various cameras in the array are, for the most part, designed to work together as one. But it's genuinely useful to understand that today's smartphone camera technology is a co-operation between physically different camera designs, melded together with cunning software. This is what we'll be exploring…
---
Chris Bidmead