"…defiantly recommended!"
I BORROW THE PHRASE from a user's enthusiastic review on the Vodafone Web site. It may not be exactly what she meant, but it seems to sum up the mood.
You'd be hard-pressed, I think, to find a cheaper equivalent. In fact you might reasonably expect to pay twice the price Vodafone is asking for its latest Smart Ultra 6. It's a very good if unexciting large-screen Android phone that seems to be a snip at the buy-out price of £125.
It's big but slim: a high resolution 5.5 inch IPS screen housed in a 154 x 77 x 8.35 mm form factor, and at 159 gms weighs just enough to feel solid in the hand. The unremarkable grey casing is plastic, but with no hint of creaking under pressure. The power button is placed in the middle of the right-hand side below the volume rocker, and there are two flap-protected sockets in the top left and top right side respectively for microSD and nanoSIM cards.
The 5-megapixel front-facing camera is nothing special, but works well enough, while the 13-megapixel rear-facing camera is a very welcome treat for a phone in this price range. One of my key uses for a smartphone is as a document scanner, using the Camscanner app. A good rear-facing camera can legibly capture an entire broadsheet newspaper page, and the Smart Ultra 6 passes this test.
The Smart Ultra 6 begs comparison with a top-of-line Samsung but at this remarkable price you might expect some cost-cutting in the technical specs. The one major omission is the 5 GHz wireless spectrum. But other key specifications seem to be intact: the phone has a 64-bit processor, does 4G, includes NFC, has a very respectable 2GB of RAM supported by 16GB of Flash which you can supplement with a MicroSD card, and has a 3000maH battery (although sadly not replaceable or wireless chargeable).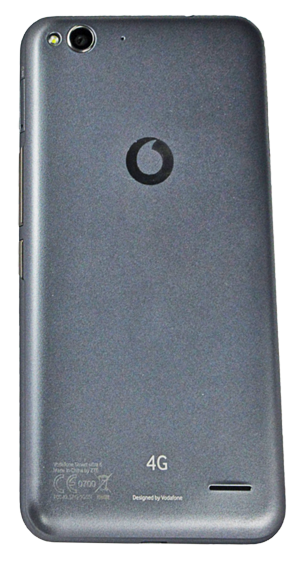 Vodafone claims to be the "designer", but for the most part this is a stock Android offering from the Chinese manufacturer ZTE (it's essentially the ZTE Blade 6 Plus) lightly dressed up with Vodafone hardware and software embellishments. And (thankfully) precious few of those. Their circular logo unobtrusively decorates the middle of the rear casing, the word "Vodafone" appears twice in tiny letters there at the bottom, and the company's software is optionally downloadable the first time you run the setup. Most of it seems to be removable should you wish to jump ship to another provider (but see "Phone Unlocking" below).
It's running Android v 5.0.2. Not the very latest, and I wouldn't bet on Vodafone updating this any time soon, but we are at least firmly in Lollipop territory, with all the latest security features. I particularly like Trusted Face and On Body Detection.
To get these working you first have to establish a regular screen lock mechanism — I chose pattern detection. The screen presents you with a matrix of nine dots and you run your finger across a selection of them in whatever order you like, as long as it's a pattern you can remember. The system asks you to repeat the pattern for confirmation.
Thus far is standard Android security. Not as rock solid as fingerprint recognition, certainly, although you can get quite tricksy with the pattern you choose. But here's where the Lollipop stuff kicks in. Once you've established a lock for your screen you can add a new feature called Smart Lock which offers a number of other ways of screen unlock methods. Pick one or several — they'll all work together.
(Some readers new to this will confuse "unlocking the screen" with "unlocking the phone" and I don't blame them. In this section I'm talking about the regular process each time you pick it up of putting in some kind of personal code/data/gesture in order to unlock the screen and make the phone useable.)
"Trusted Face" and "On Body Detection" are two options in Smart Lock. "Trusted Face" scrutinises you closely using the front-facing camera and learns what you look like in much the same way the phone learnt your unlock pattern. The next time you pick up your phone to unlock it, if it recognises you it will skip the need to input your pattern.
"On Body Detection", as the name implies, undertakes to keep your phone unlocked as long as it's in your hand or somewhere about your person, and will only lock it you put it down or otherwise part company with it.
These two techniques work together, giving you fast access to your phone but still keeping it secure. Neither of them is 100 per cent — someone who looks like you or has a recognisable photo of you could get past Trusted Face. And a nimble pickpocket working fast enough might be able to fool On Body Detection.
None of the Lollipop features I've mentioned are unique to Vodafone, of course. But that's rather the point. The Smart Ultra 6 is just a basic vanilla Lollipop. And, IMHO, all the better for that. The years have not deepened my fondness for the bloatware associated with manufacturers like Samsung.
So what's the catch?
Phone Unlocking
Just that the phone is locked to the Vodafone network. How big a deal is this?
"You must buy the phone with a Vodafone SIM," I was told in a couple of Vodafone stores. The cheapest PAYG SIM costs £10. So the effective price is actually £135.
"There's one downside," I was told by the sales assistant at the Vodafone store in Brent Cross, North London. "The Vodafone Smart Ultra 6 is permanently locked to Vodafone and cannot ever be unlocked." This categorical statement was verified by the Brent Cross store manager.
The manager at the Vodafone store in St Albans confirmed that you have to buy a Vodafone SIM with the phone. "But after you've used it in the phone for 30 days you can unlock it for a payment of £19.99, which you can make over the counter here in the shop. Alternatively, if you keep the phone on Vodafone for a year you can unlock it for no charge."
Some slight difference of opinion there. Over a month later Vodafone's PR folks came back to me with the official position. Brent Cross apparently is out of order, and the St Alban's edict largely rules. The free unlocking after one year applies, but if you want to unlock after the first month you can't actually pay the £19.99 fee over the counter. That has to go onto your SIM first, and this means you will probably have to stump up £30, because the first £10 will automatically be taken for your next month's PAYG.
However, no need for you to wait. BUY THIS BARGAIN PHONE NOW! Why? Let's think this through…
It turns out you can get the phone from Amazon for £125, and that way you avoid having to buy a SIM with it. (Actually you can also pick up the phone SIM-free from a Vodafone store as long as you assure them you already have a Vodafone SIM.) But, wait… you can't put your own non-Vodafone SIM in it without unlocking it. So the unlocking question looms large.
The cheapest 30-day Vodafone PAYG SIM is the £10 Big Value Bundle, launched in June of this year. This £10 SIM comes with 30 days unlimited UK texts, 150 UK minutes and 500MB of UK data, 3G only. Vodafone also throws in 100 Rewards points (loyalty incentives that accumulate to buy you DVDs and such). Up until the end of September this year Vodafone also included an extra enormous 50GB of data, but if you're reading this now, you've missed it.
Never mind. That 50GB was a one-time deal just for the first month and you've have needed to develop a gluttonous appetite to munch through it — no doubt part of Vodafone's cunning "Heroin at the school gates" plan to jack you up to a costlier tariff. Vodafone's a solid, reliable service provider with a long track record. But "Which" magazine warns that recent price hikes put their tariffs near the top of the list of most expensive providers, charging 30p (or more) per call-minute as opposed to, for example, 3p per minute on Three's 3-2-1 tariff. Vodafone bungs on an extra day rate of £2.50 for roaming abroad too, whereas Three lets you roam in their list of 14 "Feel at Home" countries at no extra cost.
Knowing this you may not want to stay with Vodafone. Or even start with them. But officially (we're assuming) you're locked to Vodafone unless you buy that Big Value Bundle for the first month and then bail for what will probably amount to an extra £30.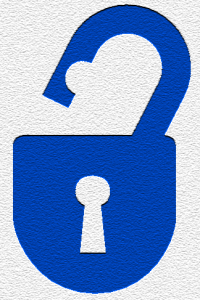 So let's see what we can do unofficially (but still legally).
Any high street phone merchant should be able to unlock the Vodafone Smart Ultra 6. In St Albans I popped into such a shop to ask the way to Vodafone, and the salesperson there offered to unlock the phone on the spot for £15. On eBay a whole raft of vendors will send you an unlock code for less than £5. As this review phone is a loaner I haven't tested whether this will work (although after email correspondence with one such eBay vendor I'm confident it will), but one way or another I'm certain you won't have to pay more than £20 to wrest the device from the clutches of Vodafone, if that's what you want to do.
For £125 + £10 + £20 = £155 (max) the Vodafone Smart Ultra 6 still costs less than, for example, the latest equivalently RAMmed Motorola Moto G (which only has a 5″, 720p screen). The minimum cost of £125 + £5 (if you trust the eBay unlock) is positively bargainous. Or if you prefer "defiantly recommended".
Chris Bidmead
(with acknowledgments to Kev Wright @kevwright for updates about the Big Value Bundle)