An unusual review, this: a bunch of stuff from PNY Technologies described as a "Festival Survival Kit", no doubt inspired by the recent mud of Glastonbury.
There's an entry-level sample from PNY's range of mobile phone battery packs together with a Lightning cable for iPhone users, a 4-in-1 lens kit to supplement your phone's camera, and an ingenious and very nicely made car mount for your phone that attaches to any front panel air vent.
The "Festival" angle isn't much more than fancy PR footwork: nobody seems to be selling this as a bundle. So let's take the items one by one and see how they pan out…
---
Snapping the Event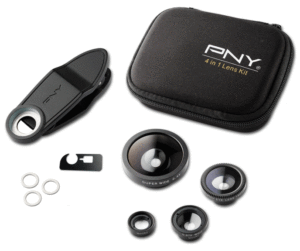 THE PNY 4-IN-1 LENS KIT CLAIMS to "turn your smartphone into an advanced state-of-the-art camera". It doesn't, of course, but we're all well inured to marketing clap-trap by now. A genuine "advanced state-of-the-art camera", or even a modestly equipped compact, would include some kind of telephoto lens that could pick out figures on the stage from some distance away.
There's no telephoto among the lenses in this kit.  The four provided—Super Wide Angle, Fisheye, Wide Angle and Macro—are fine for comic selfies, or a panoramic shot of the whole scene (although most phone cameras these days do stitched panoramas pretty well). None of them will get you up on the stage from the back of the audience like, for example, an Olympus OM-D with an M.Zuiko Digital Ed 14‑150mm zoom lens. But then you never thought they would.
What you get for your £37 (RRP, or a much more reasonable £15 on Amazon) isn't bad, in fact. The four lenses are magnetic and come with a set of attachments designed to cover a whole range of Android, Apple and Windows phones. I tested the easily detachable levered spring clip on the Wileyfox Swift, but there are various sizes of small magnetic stick-on rings designed for unobtrusive permanent adhesion to other types of phone.
Whatever your choice of fitting, it's a near certainty that your phone's flash will be obscured (and in any case the PNY lens will probably mess with any flash calculations the phone's trying to make) so you're advised to turn flash off.
Three of the lenses are provided with lens caps, the fourth, the tiny Macro lens, is designed to be stored screwed into the Wide Angle lens, which won't work without it. The stout black carrying case provided keeps the kit together and safe,  PNY offers a (rather loosely defined) two-year warranty.
---
On the Road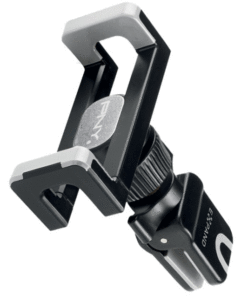 Unlike some monstrously unwieldy car window stick-on phone mounts that have crossed my desk in the past, the PNY Car Vent Mount is a neatly pocketable device. It comprises a spring grip to hold your phone articulated onto a small two-jaw clamp that attaches firmly to any air-vent grille in the dashboard. The spring grip opens wide enough to hold the larger phones like the Wileyfox Storm or the Samsung Note series and will maintain itself confidently at whatever angle you set it thanks to the knurled tightening ring around the ball and socket joint.
Amazon is currently selling this for a hair under £12 and there's a similar PNY offering that uses a magnetic grip to hold the phone at the same price.
---
Chris Bidmead
As I'm not an Apple iPhone user, I turned the remaining items over to my capable daughter, Eve, who runs the mouthwatering food blog BidmeadBites. Here's her verdict:
---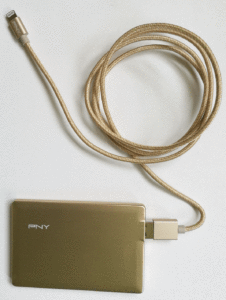 Staying in Charge
The iPhone 6s has a decent battery life, but forgetting to close apps can drastically reduce its charge. Helping smart phone users from being caught short, the PNY ALU 2500 PowerPack is a slimline, lightweight portable mobile charger, finished in an attractive rose gold tone that matches my iPhone 6S perfectly.
PNY calls the power pack 'credit card size', although its 4mm depth makes it thicker than any bank card of mine. Its 2500mAh battery capacity charged my mobile from 0 to 100% in a little under two hours, with some juice still left in the pack (although not enough for another full round of recharging).

The power pack is supplied with a microUSB cable intended for Android. Instead I used PNY's Apple Lightning Cable. This has a braided fabric outer casing that gives it a smooth touch and helps prevent tangling. It's a useful 1.2 metres long, although in practice, unlike the battery itself, I found it slightly too bulky for everyday carrying around.
And perhaps the glamorous, slender charging battery isn't bulky enough.  Heavy and chunkier portable chargers can take a phone battery from flat to full in under 30 minutes, whereas this one is almost 4 times slower. What would you rather from your portable charger: fuller-figured and faster or slim-line and slow?
The ALU 2500 power pack, also available in silver, black and gold pink, can be bought from Amazon for about twelve quid (prices seem to fluctuate daily). PNY also offers 5000mAh and 8000mAh power packs at around £21 and £28 respectively. The 1.2m braided cable comes in silver, gold or grey for around £12.
Eve Bidmead