Part one of this review covered the technology and scope of ReSound's new LiNX Quattro hearing aids and discussed the vexed question of the "Made for Android" marketing aspect. Our hope in breaking this review up into parts was that by now the issue of Android compatibility would have been resolved. That hasn't happened.
If it had, this section of the review would be telling a very different story. There would be much less need for intermediate streaming devices like those we cover below. However, as there's still no estimated time of arrival for the much anticipated full Android compatibility we'll report the current state of play and explore the three, currently very useful, supplementary devices filling this Android gap.
But the dilemma for any reviewer (for me, reminiscent of the problem of reviewing the superb Huawei P30 Pro smartphone in the shadow of the American government's sudden blacklist) is this: can we recommend spending money on supplementary products that may at any moment become museum pieces?
That's probably putting it far too strongly. The ReSound Phone Clip+ is most directly in the line of fire here. The TV Streamer 2 less so, and least of all the Multi Mic, the usefulness of which in noisy environments will remain, however and whenever ReSound fulfils its Android promise.
Meanwhile…
---
Waiting for
ASHA
MID-2019 IS ALREADY WELL behind us, and more than a year after the initial announcement there seems to be little sign of the Audio Streaming for Hearing Aids (ASHA) technology promised from Google. As we reported in Part One, rival manufacturer Sonova, under its Phonak brand name, has chosen to jump the gun by implementing full Android streaming using Classic Bluetooth.
*
This HearingReview report
on the new Phonak hearing aids misleads with the subheading "Lithium-ion rechargeable technology for 'a full day of streaming'."
In fact, the body text has Phonak more modestly claiming "a full day of hearing aid use—including streaming…". How much streaming? would be the question to ask here.
Sonova claims that a 3hr charge will give its Audéo Marvel hearing aids a full 24hrs of use. "Use" here is said to be "including streaming"
*
but I haven't discovered any published figures on how long the charge of its lithium-ion batteries will last during Android streaming.
ASHA, when it arrives, should prove to be very much more energy efficient than Classic Bluetooth for streaming, allowing ReSound to publish meaningful metrics for streaming duration that—I would expect—significantly outstrip the Marvel's current performance.
Of course, if the Marvels are able to accept a firmware upgrade to ASHA when it arrives, so much the better. There's no suggestion of this in Sonova's marketing material.
So, no ASHA—yet—for the LiNX Quatto.
However, Android users can still stream phone calls, music and general audio to the LiNXes from their phones indirectly, using one or all of a choice of intermediate relay devices. And the hearing aids are controllable using ReSound's Smart 3D Android app.
Resound offers three devices capable of intermediate Bluetooth streaming:
The ReSound Multi Mic is a device you carry with you primarily for much improved speech recognition in noisy environments.
ReSound Phone Clip+ is designed to connect to your phone by Bluetooth and relay music and audio direct to your LiNX Quatto.
The ReSound TV Streamer 2 is intended for permanent direct wired connection to a TV set, AV receiver or other domestic device. Once connected and powered it works like the other devices to relay audio directly into your LiNX hearing aids.
(Sort of) Bluetooth Pairing to the LiNXes, a General Note
All three devices will need Bluetooth pairing before use.
Pairing is the set-up process that Bluetooth devices need to go through to find one another. Strictly speaking, the wireless connection between these devices and the LiNX isn't true Bluetooth, but the pairing setup works much the same way.
When you put a device into "pairing mode" it starts broadcasting information about itself, while at the same time hunting around for any other device doing the same thing. Once the connection is made, the two devices exchange information about each other which is permanently stored (until you deliberately erase it) so that they can easily and automatically connect again in the future.
*
switching them off and then on again. You'll always sound more grown-up if you call this "power-cycling".
Putting the hearing aids into pairing mode requires nothing more than "power-cycling"
*
them.
You can do this either by holding down their respective switches for around 7 seconds, or (more simply) just by putting them into their charging box and leaving them there for a moment before taking them out again.
(A long hold on one of the hearing aid switches is also how you change programmes. The longer switch-off hold takes a few seconds more than this and you'll probably hear the programme change beep en route.
It's worth noting that although the programme change only needs to you to operate one of the hearing aids—the new programme being echoed across to the other hearing aid automatically—this long hold switch-off method has to be applied to each hearing aid individually.)
The pairing should now complete automatically with no further intervention from you. You'll know it's done when you hear a little tune playing in each hearing aid.
The ReSound Multi Mic

No bigger than a box of matches, the Multi Mic is the company's much-improved version of a standard audiology industry accessory, an independent microphone that connects wirelessly to your hearing aids to improve speech-in-noise. You might call this Personal Mode.
*
Presumably to prevent accidental choking, the lanyard has a magnetic release at the back of the neck. Unfortunately, this comes apart rather too easily, making it a less than trustworthy support for your £250 investment.
Clip it to the shirt of the person you're conversing with in loud surroundings to have their voice relayed directly into your ears, with the surrounding noise suppressed. It can also be hung round the neck using the lanyard provided
*
.
But it's much more than that. Laid flat in the middle of the table in a noisy restaurant, the Multi Mic automatically reverts to Conference Mode, omnidirectionally amplifying the speech of those around the table while at the same time working to suppress the ambient noise.
In Conference mode the Multi Mic lacks the sophistication of some other proprietary devices that automatically (or, optionally, manually) direct the microphone towards specific individual speakers. But as a general purpose device it does an excellent job, particularly as you can pick it up at any time to point it towards the person you especially want to hear.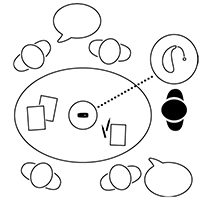 The ReSound LiNX Quattro doesn't include telecoil as a standard feature. For those that miss it, the ReSound Multi Mic has a Telecoil Mode, allowing, for example, the voice of the person behind the bank counter to be transmitted wirelessly directly into your hearing aids.
The sophisticated directional sound-gathering now possible with modern digital hearing aids has made the telecoil feature, once ubiquitous in hearing aids, less necessary. However, today's transport systems, public theatres, and facilities like post offices, remain equipped with teleloops, while legislation in many cases makes this compulsory. Switched into Telecoil Mode, the Multi Mic may be useful in many public scenarios.
The Multi Mic can also usefully act as a battery-driven version of the Resound TV Streamer (see below). In what we might call Streamer Mode the device accepts analogue audio input though its standard 3.5mm socket from your phone, your TV set or other HiFi equipment and streams it directly to your Quattros. A double ended 3.5mm audio cable is provided for this purpose.
At the bottom of the Multi Mic there's also a connection for FM devices, like the Roger X receiver, which will allow reception from one or more Roger Pens. These are devices that work very like the Multi Mic in remote mic mode, but using the FM radio frequency band. The connection is there to accomodate anyone with existing Roger devices.
You can find a video review of this "Swiss Army knife of remote microphones" here.
The Resound PhoneClip+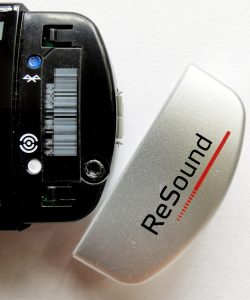 The PhoneClip+ makes up for a feature the Multi Mic lacks—the ability to communicate wirelessly with your phone. Yes, you can use the Multi Mic with your phone, but you'll need to wire it to the 3.5mm socket to do this. It's a pity that the Multi Mic wasn't able to include Bluetooth to your phone, which would make it a truly universal relay device. But for now, the PhoneClip+ is the only way to do this.
The PhoneClip+ needs to be paired twice—initially to your hearing aids and then to your phone. For this purpose it has not one, but two pairing buttons. A pair of pairing buttons, in fact. These are both revealed at the back, the clip side, of the device once the silver cap is removed.
The pairing buttons are coded blue and white. Start with white, which pairs to the hearing aids.
Put the hearing aids into pairing mode as discussed above.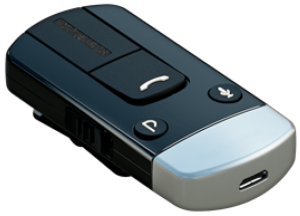 Once they're both switched off, press the small white button on the PhoneClip+ with the point of a pencil or similar instrument. This sets the PhoneClip+ into hearing aid pairing mode for just 20 seconds, so you need to be fairly nimble about this stage. Remove the hearing aids from their case (or switch them each on again with a long press) and replace them in your ears. You should hear a short tune indicating the pairing has been completed.
With that process completed, you're now ready to pair the device to your phone.
How you do this will depend on your phone. But the basic principle applies: put both the phone and the PhoneClip+ into pairing mode a foot or so apart and let them find each other.
One big advantage of the PhoneClip+ in this scenario, particularly if you find lit difficult to listen to phone calls in the normal way, is that the voice of the caller is streamed to both ears
With the PhoneClip+ set up as a Bluetooth intermediary, the LiNXes now behave like regular Bluetooth earbuds for as long as its battery lasts—around 6 operational hours or 80 hours of standby. The phone ringtone will now sound in your hearing aids and you now have a choice of how to respond. You can answer phone calls either in the usual way using your phone, or you can leave the phone in your bag or pocket and simply press the dedicated Answer/Hang-Up button on the PhoneClip+. Phone calls are terminated in the same way.
With the PhoneClip+ doubly paired like this, any audio output from the phone will be diverted into your hearing aids. So you can listen to music or audiobooks privately without disturbing those around you.
There are some practical disadvantages to this (as compared with regular headphones or earbuds) that I'll deal with in part 3 of this review.
The Resound TV Streamer 2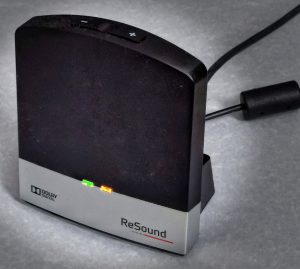 With this device hooked up to the output of my nVidia Shield TV I'm able to watch YouTube, Netflix, Amazon Prime Video and a host of other apps and channels without having to wear headphones or disturb others in the room. And this will work with any TV or audio device that has analogue or digital audio output
The ReSound literature suggests that setting this up initially may be a job for your hearing care practitioner. Actually, it says this about all three of these devices. In practice this isn't at all difficult and you should be able to do it easily with the right instructions.
There's a YouTube video here to walk you through setting up the TV Streamer 2. The only part you might find tricky if you're not used to the technology is pairing the streamer to your LiNX Quattro.
First, put the Streamer into pairing mode. If it's plugged in to a wall socket the green power light should be showing. You'll see a button marked "Pairing"—you need to press this once. An amber light, indicates that it will be in pairing mode for the next 20 seconds.
One last step: your hearing aids won't automatically pick up the Bluetooth streamer. A new mode will appear on your ReSound Smart 3D app and you'll need to switch into that.
The Smart 3D App
Even without the expense of adding these peripherals the LiNX Quattro user can still use Bluetooth to control the hearing aids from a regular smartphone. I tested the Android version of the (somewhat confusingly named) Smart 3D app.*
*
ReSound LiNX 3D
is the name of Resound's earlier version of the LiNX range, launched in April 2017. The app text includes various references to this model and it's clear it has yet to be fully updated for the LiNX Quattro.
It's an ambitious application that is far in advance of the two other hearing aid systems we've reviewed here. Its main object is to open up for the user several of the programming capabilities that would otherwise depend exclusively on the audiologist. As well as the standard ability to switch between the four programs preset by the audiologist, the app allows the user to tailor each program by tuning the high, mid and low frequencies and changing the noise filtering and speech clarity, and save the result as a separately accessible program.
If you're using any of the three supplementary devices we discussed above, they'll appear in the app as additional programs. The (considerable) downside is that you'll need the app to switch into those programs. In noisy surroundings you can flip the LiNX Quattro into directional "restaurant" mode with a discreet tap behind your ear. But if you want to bring the Multi Mic into play you'll need to reach for your phone—hardly discreet, and not always socially appropriate.
There's some more bad news on this front. Even though you've previously gone through the once only business of pairing your phone and the LiNX Quattro, depending on the make and model of your phone it can take a considerable time before the app and your hearing aids find one another.
Modern versions of Android save battery power by killing any application when you switch away from it. To avoid this, I gave the Smart 3D app Battery Priority in the Android system settings.
Even so, switching away from the Smart 3D app for any length of time seems to break the Bluetooth connection.
In social situations, to be left staring at your screen like this is a serious disincentive to using the phone to control the hearing aids.
At home you'll also need the app to connect up with the TV Streamer 2. If you're settling down to watch the news, or catching the opening of your favourite serial's next episode, waiting for the app to connect might prove frustrating. Depending on how ASHA is implemented when it finally arrives, this may only be a short-term problem.
Furthermore…
So far, we've described the ReSound Quattro LiNX and talked about what it does and how it works. But I've had a request from the good and helpful people at ReSound to complete this review by answering the key question: What, Chris, do you think of the Quattro LiNX? How is it working out for you?
It's a question I've mostly ducked so far because it's extraordinarily complex. I'll tell you why in Part 3.
Chris Bidmead