We ended part one of this review with a promise that there was a lot more to tell. There probably is a lot more to tell, but we're not in the position to tell it for the simple reason that the update to ColorOS 7—Oppo's version of Android 10—targetted at the end of last year, still hasn't reached us.
It's out there, all right. Over the Air (OTA) updates of a "trial version" went out to some Reno phones as early as November of last year. However, repeated requests to Oppo and to Oppo's UK PR agency over the intervening months have so far failed to produce anything more than a vague undertaking to look into "our problem". (Note to self: A useful way of disowning a problem is to ascribe it to whoever points out the problem.)
We've been holding back this second half of the review hoping be able to give you the latest news on the Oppo Reno 2. That hasn't worked out. So the best we can do is ignore the operating system (anything we say about its quirks and features here will be out of date when ColorOS 7 finally arrives), fulfill our promise to talk about the main camera array and fill up the otherwise empty space with a discussion of a couple of third party products we've been looking at in conjunction with the Reno 2.
---
BEFORE WE LET GO OF ColorOs 7 altogether, I can't resist mentioning that we do have Android 10 running here at Tested Technology Towers. Not on the Oppo Reno 2, of course, but on the Google Pixel 3a.
Well, OK—it's Google's own phone, and we all expect Google's phones to update before anybody else's. But there's one other phone here that we updated about six weeks ago. The OnePlus 6 is now running OxygenOS version 10.0. 4.
OxygenOS is OnePlus's name for its own (mostly stock Android-looking) version of Google's operating system. And version 10.0.4, if you haven't already guessed, is Android version 10.
There are two interesting things about this. Firstly, the OnePlus 6 is a phone we reviewed on the 23rd of August, 2018. It was launched in May of that year. The phone is very nearly two years old.
The second interesting point is that OnePlus is a sub-brand of the Chinese company BBK Electronics. You may not have heard of them, but they happen to be one of the largest manufacturers of phones in the world, second only to Samsung. The company doesn't hit the headlines because it markets its phones under multiple different brand names.
OnePlus is one of those brand names. Another is… Oppo.
Oppo Reno 2 Main Camera Array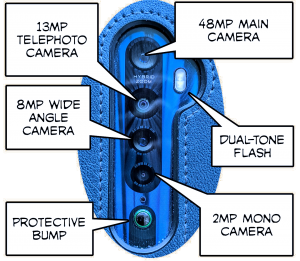 The Oppo Reno 2 has been our main phone ever since the launch back in October of last year. This has meant sacrificing a few of the outstanding features that came with the P30 Pro.
The Reno 2's price at the time of writing is now around £350. The official price of the P30 Pro has fallen to 
£630 (Carphone Warehouse)
But, of course, the Reno 2 launched here in the UK at a very affordable price of  £449, whereas the P30 Pro's launch price was almost twice that.
Cameras from Top to Bottom
1
48MP Ultra-clear Main Camera
Sony IMX586 | 1/2.0" Sensor
F/1.7 Aperture | Optical Image Stabilisation
2
13MP Telephoto Camera
1/3.4" Sensor | F/2.4 Aperture | Auto focus
3
8MP Wide Angle Camera
116° | 1/3.2" Sensor | F/2.2 Aperture
4
2MP Mono Camera
1/5" Sensor | 1.75μm large pixels | portrait mode | F/2.4 Aperture
The main camera is pixel-rich, but by default produces 12MP stills and 8.3MP videos. It's using "pixel-binning" to trade off a very small level of detail for a big improvement in dynamic range and low-light sensitivity.
You can optionally switch to full 48MP mode but you'll lose the option of high dynamic range (HDR) and/or zoom. There's little to be gained by this.
So how much was missing?
The P30 Pro has a "periscope telephoto camera", the kind that allows for relatively wide physical movement of its lens by arranging the lens array in parallel with the screen rather than at right angles to it. A 45º angled mirror or prism is necessary for the camera to be able to "see out" through the back of the camera.
The advantage of this extended lens movement is a greatly expanded zoom range. The P30 Pro can zoom optically to 5x without resorting to digital legerdemain. Mixing optical and digital zooming (hybrid zooming) gives the P30 Pro the capability of a very convincing 50x zoom. The Reno 2's optical zoom is limited to 2x. The hybrid zoom will take you to a comfortable 5x and you can push that digitally to a maximum, rather noisy 20x.
This physical complexity of the P30 zoom mechanism, of course, adds significant construction cost. The Oppo Reno 2 saves money by omitting this and Hybrid Zoom is a clever workaround. The Reno 2 impressively manages to make the most of its limited resources. But I have been missing the expansive range of photographic capabilities the Huawei phone offers.
Like the Huawei P30 Pro, the Oppo Reno 2 offers a handy macro function using the wide-angle lens. You can position the camera as close as 2.5cms to the subject.
On paper, the P30 Pro's macro has similar specs, although my impression from experiments is that it can hold focus at an even closer range.
The higher priced P30 has more powerful hardware. Its Geekbench score is 2789 against the Reno 2's 1075—a considerable difference that, surprisingly, isn't as evident as you might imagine in real life use. The Reno 2 is remarkably responsive for most functions.
As we discussed in part 1, the Oppo Reno 2's very decent 4000mAh battery is outstripped by the 4200mAh battery of the P30 Pro. In practice there's not much in it, though. I've regularly been getting a full day's performance from the Reno 2 and if I forget to recharge overnight the VOOC 20W fast charger bundled with price can bring the battery back from the dead to 50% in half an hour.
The Huawei P30 Pro also, very conveniently, wireless charges. I did toy with installing a cheap wireless charging coil from AliExpress onto the Reno 2. This uses a special flat plug to connect the almost paper-thin charging mechanism, slipped between the back of the phone and the case, to the USB Type C port. The flat USB plug is unobtrusive in general use, but a nuisance to unplug if you want to use the USB port for something else.
I probably would have stuck with the wireless charger if it hadn't failed within days, producing no charge at all. I did contemplate digging deeper into Tested Technology's minuscule budget for something more reliable. But on balance having to use a USB Type C socket to charge the phone daily is no great imposition.
One final niggle: We mentioned in part 1 that the Reno 2 doesn't respond to "OK Google" while the screen is locked, unless it's charging. It's very useful, though, we discovered, to be able to quiz your phone at any time.
"OK, Google, is it going to rain today?", you might ask, while you're putting on your coat to go out for your daily half-hour exercise. The P30 Pro (like the Google Pixel 3a, for that matter) is only too happy to respond from your shirt pocket. It's annoying that the Reno 2 can't do that.
Third Party Enhancements
The KS Immerse 75 and the Oppo Reno 2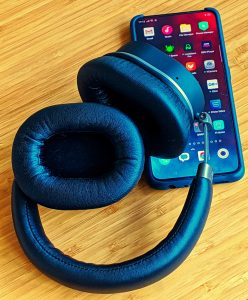 Last year the audio manufacturer KitSound offered us a sample of their Immerse 75 Noise Cancelling Bluetooth Headphones, which I promised I'd review next time we covered a piece of audio equipment. The absence of Oppo's ColorOs 7 opens up that opportunity.
And it turns out that the Reno 2 and the KS Immerse 75 are a very nice match. I was initially drawn to the Immerse 75's sensible price, well below the sort of money the big brands are asking. But these are better than just crazy cheap. They're very well made, not just for the price, but well made, period.
And they're comfortable, easy to pair and uncomplicated to use. Best of all, for me, their large, soft earcups are circumaural—they fit not on the ear, but around  it, the pressure falling mostly on your skull rather than on your auricles. In plain English, they don't squash your lugholes.
This is a nice comfort feature for the regular user and a big deal for any hearing aid wearer like me. Supra-aural headphones that rest directly against your ear can put pressure on the hearing aid device behind your ear as well as on the receiver inside your ear. For those with regular hearing, circumaural headphones offer the advantage of physical noise reduction, providing a very good seal against the ambient soundscape. There's a reason that this is the preferred form-factor for sound technicians.
Battery life is excellent. The manufacturers claim 15 hours per charge with active noise cancelling (ANC) switched on and our tests suggest this spec is no exaggeration—although it's impossible to say how this is going to hold up in time.
Ah, yes—ANC. Let me tell you about that.
If you've read our final review of the LiNX Quattro you'll know about my perambulations with T.S. Eliot. I've been augmenting my daily half-hour walk with readings of the Four Quartets, two quartets at a time.  And since I wrote that review I've been able to supplement my stable of readers with Ralph Fiennes and Fenella Fielding (both, in my opinion, excellent, with Miss Fielding leading by a short head).
The regular half-hour stroll takes me to the far edge of a park that backs onto a (still) noisy main road. Streaming from the Google Pixel 3a direct to my LiNX Quattro hearing aids always worked well up to that point. But near the road, traffic would often drown out the voice of the reader.
*
In any case, the poem is largely about all time—past, present and future—being one and the same thing (or something along those lines). So if on these many walks I miss various different fragments from the various different voices, the totality of the poem is nevertheless somehow preserved holistically in the endless circle of time that is neither still nor moving but always present.
I'm sure Tom would agree.
My comprehension of Tom Eliot's dense poem (yes, we are on first name terms now) is only, in any case, fragmentary, despite these now multiple listening sessions. So missing a phrase or two as I walked was never disastrous.
*
But now, of course, I have the KS Immerse 75 headphones. With noise cancelling.
So,with the headphones paired to the Reno 2, I'm getting the whole deal with each and every walk. Not that I'm much closer to understanding what Tom's on about much of the time. But I am hearing all the words.
No question, the Immerse 75's ANC, supplementing the physical noise reduction of the circumaural construction, does the job in noisy surroundings. For speech. But it comes at the price of a noticeable bass cut that you're not going to like for listening to music.
*
There's a strong argument for holding off from spending heavy loot on anything Bluetooth at the moment. The whole game is about to change with 
Bluetooth LE Audio
.
And if your ears are better than mine (which, unless you're as old as me, they probably are) you might also find the music reproduction, with or without ANC, OK but not great.
I'm very comfortable with the Immerse 75s but you might see a reason to pay five times the price for something classy from Bose*.
You can pick up the KS Immerse 75 from KitSound's own Web site for £79.99.
The Movo Smartphone Video Kits and the Oppo Reno 2
When Movo's PR people dropped us a line offering Tested Technology a pick of their products, we were just starting to get to grips with the Reno 2. It seemed that a review sample from their useful collection of smartphone accessories might be a good match for the phone.
It took a while, though, to pick the right product set from Movo's wide range of offerings. The first batch that Movo sent us included a set of accessories designed for interview videos and out-of-the-ordinary still shots, including a couple of those add-on lenses designed to give your phone's camera a professional range of different focal lengths.
This SmartCine Video Kit seemed to have been designed back in the day when phones only had a single main camera.  You can make some use of the kit's three-level LED ring illuminator if you just stick with the Reno 2's 48MP camera. Mounting the phone on the illuminator/mic assembly, however, blocks the phone's other cameras.
The Movo add-on lenses screw ingeniously into the centre of the ring illuminator and using the fish-eye lens you can get novel shots like the one below, unobtainable using the Reno 2 camera's available features.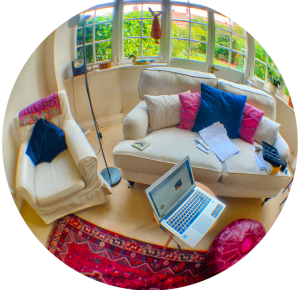 Movo also sent us a
gimble stabiliser
but this turned out to be intended for use with a full-blown SLR camera, not a much lighter smartphone.
These things are designed to fix the problem of stabilisation when shooting video handheld and fall into two distinct categories. The passive kind that Movo sent us use pure physics, with a counterweight swinging well below the centre of gravity of the rig to keep the camera steady. This requires operator skill to avoid a pendulum  motion.
More expensive active gimbles use an electronically-controlled gyroscope and some can even steer the camera's pan and zoom. We're hoping to cover both types of stabiliser in the near future.
Other than that, I can't see this kit adding much to the capability of the Reno 2, or any comparable smartphone. The microphone might be an improvement for video interviewing. But that's covered much better by another of Movo's Video Kits, which includes a wireless mic.
This is the Smartphone Video Kit V2. The Universal Phone Grip that forms the backbone of the kit makes no assumptions about the positioning or number of cameras in the smartphone's camera array and the three-level, 30-element LED lighting accessory is a separate panel, mountable on an adjustable shoe-extender cross-bar.
Instead of the SmartCine's fixed mic, permanently mounted above the rig, the Video Kit V2 includes a wireless transmitter mic and a matching receiver, with a range of 25m. For interviews or video self-shooting this allows close miking the subject, mitigating problems of ambience and noise.
The Video Kit V2 is presented in the same zipped black stiff canvas case as the SmartCine Video Kit. This turns out to be essential for keeping all the bits together, including the cables you need to connect the wireless receiver to your phone and charge the LED fill light (the wireless devices use an AA battery each). The very handy Bluetooth remote shutter trigger is a particularly potentially fugitive item.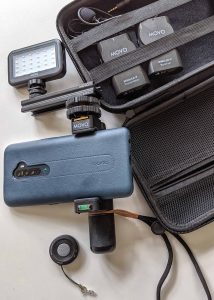 Movo's Smartphone Video Kit V2
turns out to be an excellent match for the Oppo Reno 2. The Universal Phone Grip secures the phone firmly but gently and can be used with the phone in its case, as seen here.
The grip's handle is somewhat short but has a standard 1/4-20 UNC thread in the base for attaching to a tripod. The two units seen here in the case are the wireless transmitter and receiver.
At the bottom of the picture is the small coin-like Bluetooth remote shutter trigger, which runs on a CR2032 battery. Unlike cheaper similar triggers this one initiates video as well as stills.
Finally…
Over the last four months, the Oppo Reno 2 has exclusively been Tested Technology's main phone. Apart from the zoom limitations (as compared with the Huawei P30 Pro) its very capable cameras covered everything we've needed to do.
The KitSound Immerse 75 headphones and Movo's Video Kit V2 have been really helpful adjuncts and Tested Technology is grateful for these donations to our stock of test equipment.
---
Chris Bidmead