Japanese-owned Buffalo was an early pioneer of network-attached storage (NAS). You can always tell the pioneers, as the old industry joke has it, by the arrows in their backs—the arrows in this case having been fired by later arrivals to the NAS game, notably Synology and QNAP, two Taiwanese manufacturers that have been eating the Japanese company's market share.
Buffalo has recently been making a push to win back lost ground with updated versions of its LinkStation (consumer) and TeraStation (small business) product lines. The TeraStation 3200 I'm reviewing here is the entry-level offering for business, so let's see how well Buffalo is doing.
---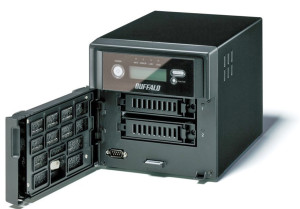 THE BUFFALO TERASTATION 3200 (TS3200) is designed to be a business-class NAS, offering not one but two gigabit Ethernet ports, and an informative front panel to take the guesswork out of setup and diagnostics.
Buffalo is aiming this range (with a choice of 2TB, 4TB and 8TB options) at home offices and small and medium businesses, with the emphasis on reliability and performance.
The TS3200 is ready-to-go out of the box, its Linux operating system enhanced with what the marketing bumf calls "important features for your business." Reasonably these include Active Directory support and the ability of the TS3200 to act as an iSCSI target, as well as the regular NAS ability to serve SMB (Windows), AFP (Macintosh), NFS (Unix) file systems. You can also access the TS3200 over the Internet using Buffalo's WebAccess Remote service, and hook the device into Amazon's S3 Cloud.
Less businessy, I would have thought, are the DLNA and iTunes servers, though these are certainly nice to have if the device is doubling up as a multimedia server, perhaps in a home business environment.
The TeraStation Hardware
The model reviewed here is the entry-level 2TB version. Of course it should be possible to replace the drives yourself, but Buffalo (unlike, say, rival QNAP) regards the drives as integral to the product, and doesn't, unfortunately, provide a diskless version.
Buffalo has chosen Toshiba as its disk manufacture across the range. It's not a name you'd normally associate with business NAS applications: the conventional choice being the Western Digital Red series, specifically designed for a 24/7 duty cycle.
This particular Toshiba drive has an interesting history. With its industrial production scattered across sectors as widely diverse as comms infrastructure, power systems, household appliances and medical equipment, in the IT sector Toshiba has been mostly associated with reliable, middle-of-the-road laptops. The company did manufacture its own drives, but only in the portable market's 2.5″ form factor.
In 2011 seasoned drive vendor Hitachi sold its entire hard drive division to Western Digital, which then became the world's largest manufacturer of traditional hard drives. EU and Japanese regulators intervened, forcing Western Digital to sell off all its desktop and consumer 3.5″ drive assets. Toshiba was the purchaser. 
The 1TB DT01ACA1 Toshiba-labelled drives paired inside the TS3200 are the original 2011 desktop Hitachi drives (see Box). These spin fast, at 72,000 rpm, and have a fast data transfer rate of 6Gb/s that complies with the SATA 3.0 specification. Curiously, Buffalo's own specs for the SATA interface suggest it's only SATA 2.0 compliant, limiting the data transfer rate to only 3Gb/sec.
Toshiba is working hard to strengthen its reputation, following a devastating accounting scandal that rocked the company—and the Japanese government—in 2015. Buffalo's rather odd choice of Toshiba fast desktop drives to feed into a slow SATA interface may stem from keiretsu, a traditional Japanese trade protection arrangement that tends to exclude foreign imports.
At the core of the TS3200 is a Marvell Armada XP MV78230, more an integrated system-on-a-chip (SoC) than a processor. It's based on ARM architecture and the "XP" signifies it's part of Marvell's "Extreme Performance" series. This implementation is at the lowest end of that range, being only dual core among quad core peers and operating with a 16-bit local bus instead of the 32-bit bus used by the other XP members.
Its power management has been specially designed for low-power/high performance applications, which makes it an excellent choice of processor for this type of NAS.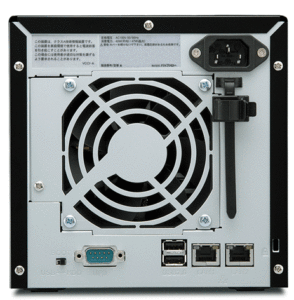 The Armada SoC provides the pair of gigabit Ethernet ports. In my tests I only used one of these, but the second can be used, for example, to connect another Buffalo Terastation as a backup/failover resource.
The pair of USB ports at the rear are USB 2 only, but this is fast enough for the various USB functions Buffalo provides. These include backup to an external drive and USB print serving. The print server function is somewhat restricted—it's one-way, so it can't give data on ink levels, and multifunction printers won't be able to scan.
One particularly business-like feature of all the Terastation machines is the ability to hot-swap the drives. In RAID 1 configuration on the TS3200, for example, if one of the drives dies (or should that be "when"—hard drives will always fail sooner or later), you don't need to switch off the NAS to fix the problem.
As RAID 1 mirrors the drives, your existing data will still be accessible, although obviously you'll want to restore the mirror configuration as soon as possible. The TeraStation's hot-swappability means that while the device is still running you can remove the dud drive, replace it with an identical blank drive, and instruct the machine to rebuild the mirror onto the new drive.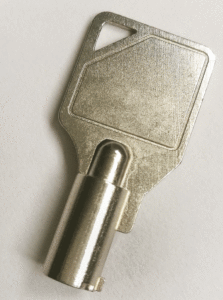 This process doesn't need supervisor access through the Web interface. Anyone can do this manually if they can get to the machine itself. Clearly, there are security implications here, which is why the drive door is fitted with a lock.
Unfortunately, the lock and the pair of keys provided are bog-standard across a very wide range of manufacturers and devices, a key from any one of them being able to open the lock from any other. As a deterrent to drive and/or data theft it ranks somewhere between trivial and non-existent.
Conclusion
Buffalo's marketing literature includes the assertion that the "TS3200 protects your data with RAID (0/1/JBOD)".  If by "protects" Buffalo just means "stores", well, yes it does. But the idea of RAID is to protect against data loss with redundancy. Neither RAID 0 (striping across both drives) nor JBOD (Just a Bunch of Drives) are true RAID, and far from using redundancy will positively guarantee loss of data if (when) one of the drives goes down.
The only RAID mode available on the TS3200 that makes business sense is RAID 1 (mirroring). This reduces the capacity of this particular model to 1TB, the equivalent of any entry-level desktop computer. The TS3200's 1GB of non-expansible DDR3 RAM puts it on a par with an entry-level Android phone. This is probably as much as you'd need for essential NAS tasks, but don't expect this device to do too much at once.
This RAID 1 capacity of 1TB means that, unlike Doctor Who's TARDIS, the TeraStation 3200 is a lot smaller on the inside than it is on the outside. Physically it's quite a chunky box, at 230mm x 170mm x 170mm a form factor very similar to several other 4-drive NASes on the market.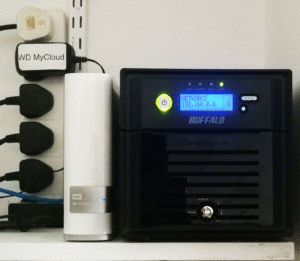 Physical size isn't everything, but I can't resist comparing it with the WD MyCloud, which delivers up to 4TB in a very much smaller form-factor. (Admittedly the MyCloud isn't a business NAS, and as a single drive device offers no RAID security.) It would of course be possible to replace the supplied pair of 1TB Toshiba drives with higher capacity storage. Sadly the TS3200 can only support drives up to 4TB, so the newest 6TB capacities (as I'm using in the QNAP TS-451) are beyond its reach.
However, Ethernet-connected to a second TS3200 to support fail-over (automatically taking over if the first NAS goes down), I'd regard this as a very respectable small business solution. Buffalo backs this with a solid 3 year warranty and a 24-hour hard drive swap arrangement.
Prices vary wildly. The cheapest I've found for the 2TB TS3200 is around £315 on Amazon, but some vendors are asking more than twice that for the identical machine.
Chris Bidmead
| | | |
| --- | --- | --- |
| Dimensions | 230 x 170 x 170 mm | |
| Weight | 8kg | |
| CPU Type | Marvell Armada XP MV78230 (Dual Core) | |
| CPU Speed | 1.33GHz | |
| RAM | DDR3 1GB | |
| Number of Bays | 2 | |
| Drive Interface | SATA 3.3 Gb/s | |
| Total Drive Capacity | 2TB | |
| Installed OS | Linux | |
| Size of Workgroup | 150 | |
| Supported HDD Capacities | 1TB, 2TB, 4TB | |
| Connector Type | RJ-45 | |
| LAN Ports | 2 | |
| Data Transfer Rates | 10/100/1000 Mbps | |
| Connector Type | USB Type A | |
| USB 2.0 Ports | 2 | |
| Power Supply | Internal AC 100-240V Universal, 50/60Hz | |
| Power Consumption (Max.) | 89 Watts | |
| Power Management System | Yes | |
| Supported RAID Levels | JBOD, RAID 0, RAID 1 | |
| Hot Swap | Yes | |
| Hot Spare | No | |
| Video Surveillance Package | One free camera license, more can be added, manages storage pool and camera pool, supports cameras from 184 vendors and manual settings for RTSP | |
| iSCSI | iSCSI Target | |